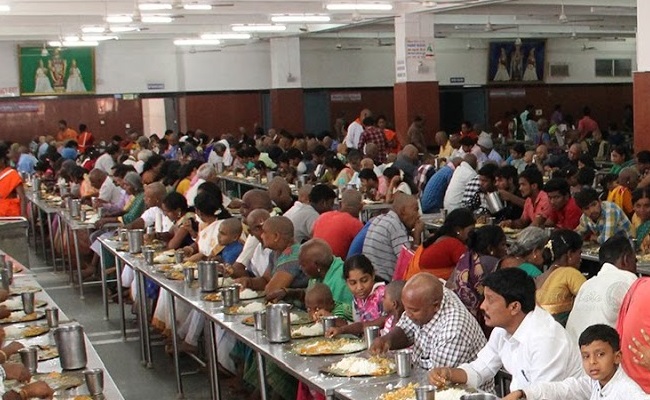 The decision of the Tirumala Tirupati Devasthanams trust board, which met on Thursday under the leadership of chairman Y V Subba Reddy, to ban private restaurants and eateries on the Tirumala hills, was certainly a revolutionary move.
The TTD trust board chairman said all the pilgrims will hereafter get Anna Prasadam (food) free of cost. The food outlets and kiosks would be set up at all major junctions to ensure that the pilgrims would get uniform food free of cost.
He also announced that those who have been running private restaurants and other eateries would be given licences to run other enterprises on the Tirumala hills.
Naturally, the move evoked strong protests from a section of people and within no time, arguments against the TTD's move have started circulating in the social media.
"It is a retrograde step, in the larger interests of making Tirumala a safe and happy place for the pilgrims," the message doing rounds in the social media said.
According to their argument, it would affect the livelihood of thousands of evacuees of Tirumala, who were given small shops and who established small food outlets.
"Selling food has been there from several centuries in Tirumala. Epigraphical evidences are available to this, right from 14th century, much before Krishna Devaraya regime. So it's not wrong to sell food as it was being done from ages. The entire "Mirasi" system for hundreds of years was dependent on the sale of prasadam," they argued.
They point out that the Tarigonda Vengamamba free food centre is already bustling with pilgrims, with a waiting period of at least 1 to 2 hours both morning and evening.
They also say cooking food by the TTD for thousands of pilgrims all through the day on its own and supply it free of cost is a very difficult task.
"Pilgrims to Tirumala come from all parts of the country. How can the TTD cater to the tastes of all of the hundreds of categories of pilgrims?" they asked.
The opponents of the TTD move also argue that if the TTD takes over the food catering business or oursource it to some agencies, it would lead to chaos and huge waste of money.
Regarding the allegations that some of the eateries and restaurants are charging high rates for the food, the critics say when the TTD itself is offering cottages at various rates ranging from Rs 100 to Rs 5,000 per day, why can't the restaurants charge different prices depending on the quality of food.
"If the prices of food at the private restaurants are really more, then the TTD can take steps to control the prices, instead of closing them down altogether. The TTD can also employ food inspectors to check the quality and hygiene of the food supplied at these restaurants," they argued.