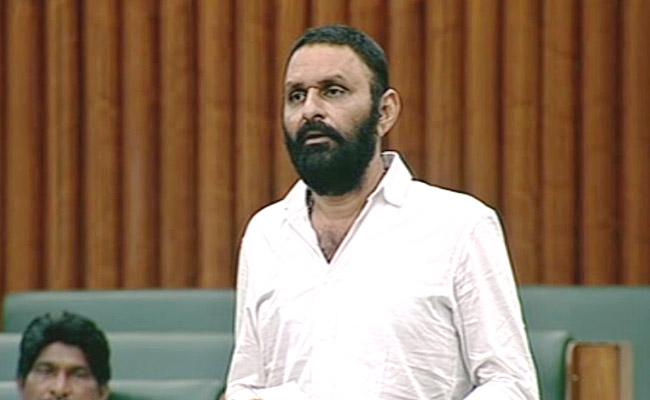 For TDP, Amaravathi is a movement. But Kodali Nani exposed it as a brutal scam in the Assembly today with some evidence.
He announced the names of a few who are involved in the game of land exchange between Amaravathi and Gannavaram.
Kodali Nani said, "During Chandrababu's regime, the Central Government asked the state government of AP to acquire 800 acres of land around Gannavaram and surrender it to them, in order to expand it as an international airport. Chandrababu Naidu's cruelty is exposed here.
First he acquired the assigned lands of SCs and STs in about 70-80 acres and allotted them an unapproachable nasty land in some far interior region, after crossing a creek. Thus he first backstabbed SCs and STs by grabbing the prime land from them and allocating them the worst lands with no roads and amenities.
Then he has taken the lands from some SCs, BCs and Minorities in around 100 acres and they were not allocated any land anywhere. That was the land which was under cultivation by them. But they were betrayed by saying that it was not any assigned land and they have no right to cultivate and own it.
Then there were lands of some biggies like Ashwini Dutt, K Raghavendra Rao, Seeds Company Sreedhar and others in about 600 acres there. Chandrababu took those lands and allotted the premium lands of their choice in Amaravathi in exchange.
Had the government spent Rs 400 Cr on land acquisition in Gannavaram at that time, it would have easily bought 800 acres as per the 50 lakh per acre price of that time. But Chandrababu allotted 600 acres of premium lands which cost Rs 6 Cr per acre to his kith and kin in Amaravathi. That means he poured Rs 3600 cr of public money to these bigwigs who were close to him.
But he didn't think about SCs, STs and minorities who were betrayed in this whole process. He would have given the premium lands in Amaravathi even for them. But he didn't. That's the cruelty of Chandrababu".
TDP leaders and Chandrababu should respond to this and give explanation. Is it true that Chandrababu's government uplifted only the close friends from his own Community betraying Dalits and Minorities? The State Of AP needs to know the answer. Or else, the silence can be considered as an acceptance.