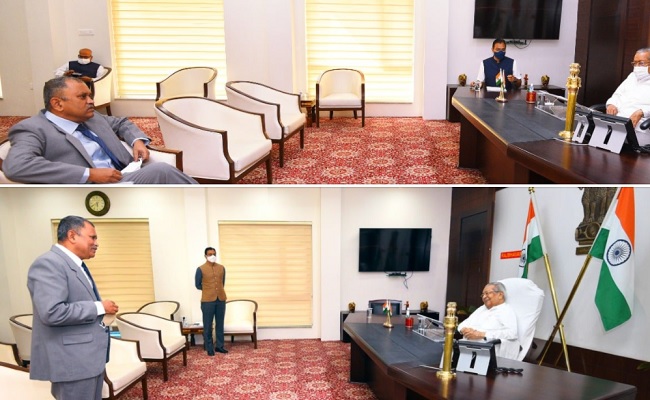 The social media is active for the past some years. It was for the social media, people are able to see and read the news that the main stream media has been suppressing or hiding.
One such possible news to be supressed by the main stream media had surfaced in the social media and is going viral.
This was a small photograph of State Election Commissioner Nimmagadda Ramesh Kumar, with Governor Biswabhushan Harichandan.
Ramesh Kumar met the Governor at Raj Bhavan on Monday evening and briefed him about the successful conduct of the Gram Panchayat elections.
He is also understood to have briefed the Governor on the municipal elections and his plans to go for the MPTC and ZPTC elections.
He had reportedly told the Governor that the state government was supporting the SEC on elections and the panchayat elections were held peacefully.
But, the question is not about his explanation to the Governor on the elections, but the standing position in which Nimmagadda was found in front of the Governor.
It was on January 27, Nimmagadda's photos with the Governor were released and the SEC was sitting in front of the Governor with his legs crossed, against the protocol.
However, this time, on February 22, the Raj Bhavan seems to have taken care to ensure that Nimmagadda is made to stand in front of the Governor and not to sit with his legs crossed!