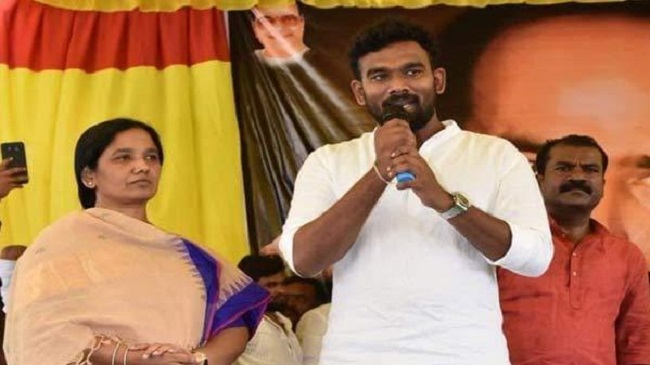 Let us look into three different political happenings at one go.
Paritala's Image: Gone are the days when power can be completely autocratic. At the end of the day we live in a democracy and once people are unhappy with you, they vote you out of power. This is exactly what happened in Raptadu constituency with the Paritala family. Paritala Sriram got defeated and was taught a lesson.
However, despite the defeat, the effort to rectify or mingling with people is still missing. Instead, they are still displaying their muscle power like before. The latest in this happens to be the case of Meda Chandrasekhar, a victim who took a loan of 1 crore from Murali, brother of Paritala Sunitha. Though he is ready to repay it, it is heard that Murali has forcefully registered the victim's land worth 10 crores on his name citing principle and interest has come to that amount.
This is not the first time the Paritala family is getting such attention, in the past when KIA motors was setting up its plant, a businessman from Puttaparthi invested 1 crore and bought a land there. Then TDP was in power. Within few days, the price grew exponentially to 7 crores. Noticing that, Paritala family started pressurizing that businessman to give that land to them for 1 crore only. Reports say the businessman had no choice but to part with the land.
Many other reports also say how when someone approaches the Paritala family for dispute settlements they end up losing their property if that family's eyes fall on it. The rule of fear is their policy. While they are still continuing this thuggish ways, the victims are now coming out.
Chandrababu's Leg: It is heard that the incessant rains are prompting the farmers of Rayalaseema region to invite Chandrababu Naidu for a visit. Well, there is a strong belief that with Jagan comes rain and with Naidu comes drought. Heavy rains have been lashing this region and farmers are hoping Naidu's visit will drive them away. When Naidu was the CM, the greenest of areas became dry to the extent of drought.
Things have changed since last year, excellent rainfall has been recorded. Rayalaseema has received a record breaking 175 TMC of water this time. The Rayalaseema projects are seeing very good water levels despite water flowing to the Nellore region. People there are surprised. Even the Penna River is flowing with great water levels. Same is the case with Tungabhadra River.
Now, Rayalaseema region which was known for its drought tag is now becoming a fertile region with greenery and very good water levels for the next three years. All this is being attributed to Jagan coming to power. If the rain god can be a little more kind and throw showers around Dussehra time, the entire face of Rayalaseema will change.
Vijayasai Reddy's New Initiative For North Andhra: MP Vijayasai Reddy has been working relentlessly to bring the issues of North Andhra to the attention of the Central government. Recently he requested the Centre to come up with the Ayush University in Vizag.
Now, he is demanding that even CAT should also be set up here. He revealed how there are nearly 50000 central government employees and the Central Administration Tribunal (CAT) is required at Vizag to deal with their issues. Not stopping at that, he has also asked for IIIT to be setup in Vizag.
That way, he is not letting go of a single opportunity to present Vizag as the forefront of many important institutions. That way, he has been proving to many elected representatives that if you have the right intent, many development projects can be brought to their respective constituencies. He is doing complete justice to Vizag as the nodal center, say many experts.
Click Here for Latest Direct-to-OTT Releases (List Updates Daily)