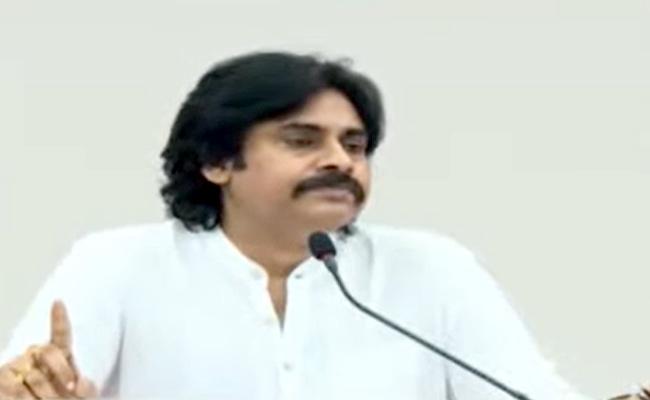 The way power star and Jana Sena Part chief Pawan Kalyan openly renounced his claim for the Andhra Pradesh chief minister post has left his party workers and hardcore fans in a state of frustration and desperation.
At a recent press conference, the power star made it clear that he was not craving for the chief minister post, but was focussing only on bringing down the YSR Congress party government headed by chief minister Y S Jagan Mohan Reddy.
Pawan Kalyan said he would bargain with potential allies on the basis of facts and figures about the ground that his party had gained after 2019, before which the party was focused on building the organisation.
"I will not plead with either the BJP or the TDP to make me as the Chief Minister, which should happen with the solid backing of the voters. If our party can get 30-40 seats, then there is a chance of me staking claim for the CM post," he said.
This has left his fans and supporters in a state of quandary.
All these days, the Jana Sena Party workers and power star fans have been raising "CM," "CM" slogans wherever he had gone. They have been of firm belief that Pawan Kalyan would definitely become the chief minister in 2024.
However, his statement that he was more interested in forging alliance to defeat the YSRC, rather than becoming the chief minister, has demoralised his cadre.
"How long should we carry the flags of other parties? When shall we hold our party flag high?" a hardcore Jana Sena Party worker asked.
On Monday, popular YouTuber and Jana Sena Party worker Anil Kumar Yadav Deshmukh posted a video expressing disgust over Pawan Kalyan's decision to play second fiddle to the Telugu Desam Party.
"I felt very bad when he said he was not prepared to lose by contesting alone. It shows lack of self-confidence," he said.
Deshmukh wondered why the fans of power star should follow him at this stage.
"He contested only one election in 2019 and lost it. That doesn't mean he has to give up his hope and goal. We are all ready to fight back in 2024 with a fighting spirit. But after listening to his words, we are shocked," he said.
He said he would support whatever decision he would take with regard to alliances.
"But our only desire is to see that you become the chief minister. Please do not give up your claim for the CM seat," Deshmukh said.