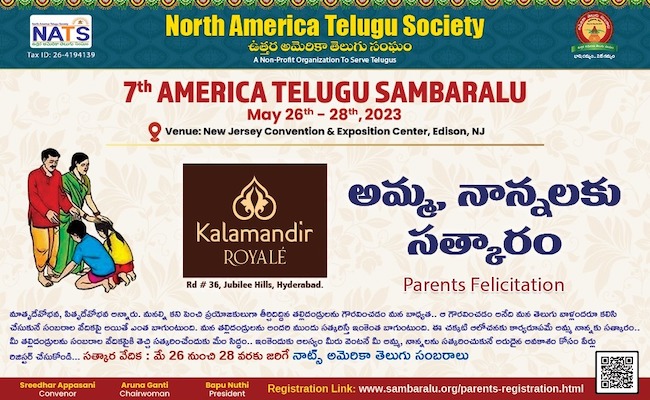 NATS (North America Telugu Society) was established with the aim of extending a helping hand to the Telugu people in USA. In 2009, NATS initiated its first Helpline, which inspired other Telugu Associations in America to start their own helplines.
After 14 years of journey, building a strong connection with the Telugu people living in the USA, NATS is now celebrating its 7th Convention in New Jersey from May 26-28.
As part of these celebrations, an exclusive event is going to be held titled- "Amma Nannalaku Satkaram".
Every NRI is living the dream of their parents. Parents dedicate their lives to nurturing their children, providing education and a good life. Children do show their respect by making their parents happy on various occasions. However, it is rare to have the opportunity to express a few words about their parents on a big stage and publicly honor them.
NATS conceptualized this idea of honoring parents, which is deeply rooted in our culture and human emotions.
Kalamandir Royale, a prestigious brand from South India, was moved by this idea and has come forward to show respect to elderly parents/parent through their gift vouchers. Inspired by the idea, Parents Pulse and Doctor's Pharmacy have also decided to sponsor the event in their own way.
This event provides a unique opportunity for NRIs to introduce their parents/parent to the Telugu community from a prominent platform.
Registration for the event is completely free, and the expenses for honoring the parents will be covered by the event sponsors. Participants simply need to register using the provided link, bring their parents to the event, and report to the event organizers. The organizers will take care of the rest.
We encourage you to register soon, as there are limited admissions available. Don't miss this rare opportunity to introduce your parents to the world.
CLICK HERE!! to Register for free: https://www.sambaralu.org/parents-registration-details.html
Please visit: https://www.sambaralu.org/
Content Produced by Indian Clicks, LLC