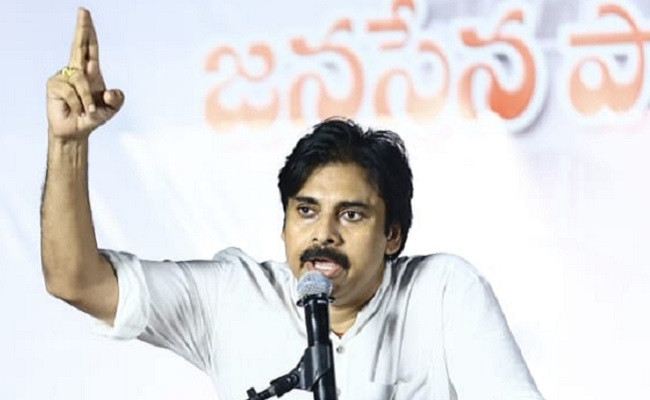 Pawan Kalyan keeps on exposing his ignorance but assumes that he is making sense while speaking from the dais or in press meets.
He certainly doesn't know the political awareness of people in the state. He feels that a few tens and hundreds of people sitting in front of him are the representatives of the entire population of the state.
He understands their claps and whistles as the response from the majority people of the state.
He was defeated twice but still lives in his own fool's paradise. Yesterday was AP Formation Day. He wished the people of AP on this occasion.
He said that Potti Sreeramulu sacrificed his life for the freedom of the state but now such motivation is lacking in the people of AP. He laments that people are not at all bothering even when the state is going upside down in every sector.
But the irony is that except the TDP, their allied media and Pawan Kalyan, the rest of all the people in AP have little or no complaints on the present rule. The evidence was seen in local body elections and bypolls in several places.
For Pawan Kalyan, the state appears to be in order only when Chandrababu becomes the CM. He also worried about the exodus of some industries from the state.
The netizens are ridiculing him for being in alliance with the party that attempted to sell the Vizag Steel plant and lamenting about the industries in the state at present. They ask him to show his guts in criticizing the BJP government for privatising the Vizag Steel Plant. Can he?
Netizens are educating Pawan Kalyan by bringing out the statistics:
The increase in GST from 1 October 2022 to 1 Nov 2022 in AP is 24% while in Telangana it was 11% and in India it was 18%. Increase is GST is nothing but an increase in income.
AP stood top in bringing in investments to the state. DPIIT-Department for Promotion of Industry and Internal Trade reported on September 14, 2022 that in the last seven months AP brought investments worth Rs 40,361 Cr and stood first in the nation.
A report from the Central Ministry on 22 Aug 2022 stated that AP stood first in the nation with a 11.43% increase in GSDP in 2021-22.
So netizens say to Pawan Kalyan that either by welfare or by development AP people are happy and need not worry about them. By all means, the ignorance in Pawan Kalyan's speeches is hilarious.
Kiran Sharma