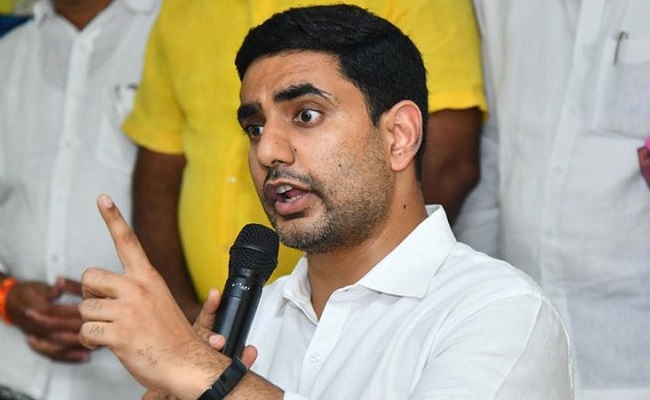 TDP chief Chandrababu Naidu, its MLAs and MLCs are holding protests since Monday alleging that 26 people have died in Jangareddygudem of West Godavari district due to spurious arrack.
They tried to stall the proceedings of the Assembly and finally got suspended from the House, while their leader Chandrababu Naidu visited the families in Jangareddygudem town.
Naidu's son, Lokesh is leading his party MLAs and MLCs to hold a protest at the Assembly today on the same issue where they are demanding the resignation of chief minister Y S Jagan MohanReddy owning the responsibility.
The state government had already said that the deaths were only 16 and not 26 as claimed.
The government also said that all the deaths were not caused by the hooch. However, the TDP is continuing to make it a political issue by holding protests for the second day, while the yellow media gives wide coverage.
Lokesh is leading his MLAs and MLCs today to get the best political mileage. Before holding such a protest, Lokesh should remember that 29 people died in a stampede on the first day of Godavari pushkarams, when his father was the chief minister.
The death was caused by the shooting of a documentary as film director Boyapati Srinu was holding the mike and directing the entire show of Nara family taking holy dip in the river ghat on the first day.
So who owns the responsibility for those deaths? Did Naidu own the responsibility and resigned? Ironically, Naidu blamed the people and the media for the deaths and not the Boyapati team or his own family members!
Even the Judicial commission which was made to investigate into the stampede had also blamed the media and people, and not Boyapati or Naidu family.
There were hooch deaths in the Mylavaram area of Krishna district when Naidu was the chief minister. There was a boat capsize in Krishna river near Ibrahimpatnam when Naidu was the chief minister.
Who owned the responsibility for all these deaths?