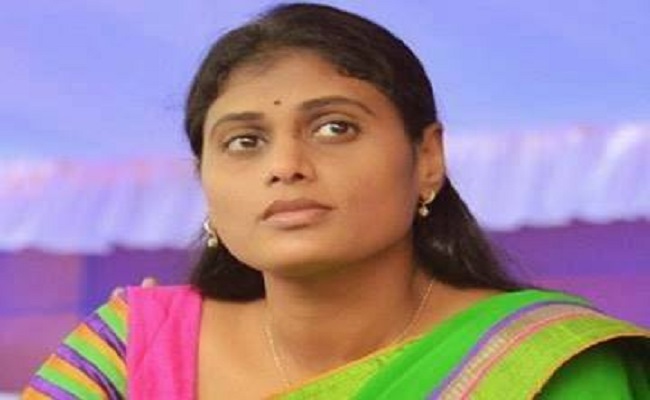 It is an open secret that Y S Sharmila, president of YSR Telangana Party and daughter of late Y S Rajasekhar Reddy, has not been in good terms with her brother – Andhra Pradesh chief minister Y S Jagan Mohan Reddy.
But the differences remained completely within the family and have never got exposed. There were hardly any occasions when the brother and sister had spent the family time together since Jagan became the chief minister.
Except on the occasion of YSR's death anniversary and birth anniversary at Idupulapaya Samadhi in Kadapa district, Sharmila and Jagan were never seen together. Even on these occasions, they did not appear to be in talking terms.
Yet, neither Sharmila nor Jagan made any comments against each other and never tried to poke their noses into each other's activities. Sharmila has confined herself to Telangana and is continuing her padayatra to occupy the little space there.
And Jagan is busy with his government in Andhra Pradesh without making any attempt to interfere in his sister's padayatra in Telangana.
But the ongoing investigation by the Central Bureau of Investigation into the murder of former minister Y S Vivekananda Reddy, uncle of Sharmila and Jagan, seems to have widened the gap between the two, if the reports appearing in a section of media are true.
According to these reports, during her visit to New Delhi on October 7, Sharmila reportedly gave it in writing to the CBI that sitting YSRC MP Y S Avinash Reddy and his father Bhaskar Reddy were the masterminds behind Vivek''s murder.
"There is no other reason. Viveka has no enemies. But there were differences between him and my family members over the Kadapa Lok Sabha ticket. While Avinash wanted that he should contest the Kadapa seat, Viveka insisted that either he should contest or the ticket should be given to Sharmila or her mother Vijayamma. That led to his murder," the CBI said, quoting Sharmila.
Speaking to media on October 21, Sharmila more or less endorsed the CBI statement. She said what the CBI said was true and demanded that whoever were involved in her uncle's murder should be brought to book and punished severely.
"Nobody should stop it," she said.
According to the media reports, Jagan is very much upset with Sharmila giving her statement to the CBI and he reportedly spoke to his mother and expressed his anger.
He said he was maintaining a lot of restraint all these days but Sharmila was damaging his party and his own image with such acts.
If these reports are correct, the gap between Jagan and Sharmila has widened too far that it cannot be bridged. It makes one wonder why she has taken such a confrontationist attitude against her brother, because she has nothing to gain politically or otherwise.
If Sharmila is trying to blackmail Jagan for political gains or properties, then it will only backfire on her, because it will damage the reputation of entire YSR family.
So far, she has not directly made any comments on Jagan; but if she does, then the relationship is completely cut off!