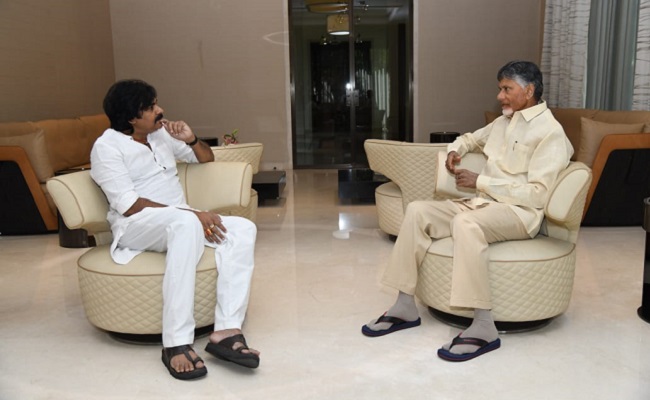 The alliance of Chandrababu And Pawan Kalyan is almost confirmed looking at the pictures though there is no official announcement yet.
As per the sources, the talks went on between Pawan Kalyan and TDP with regard to the sharing of constituencies to contest.
Pawan Kalyan asked for 35 Assembly Constituencies and 5 Parliament constituencies but Chandrababu made it clear that he could offer only 25 and 3 respectively.
The deal is not yet done, but knowing Chandrababu Naidu the political circles are saying that it may not be a wonder if he finally closes the deal at 15 and 2 at the eleventh hour.
Apart from this, there is other interesting information. It seems that Chandrababu said he would field his own candidates to contest on behalf of Janasena in case Pawan Kalyan fails to get the suitable candidates.
It seems that Pawan Kalyan thanked CBN for this assurance not knowing that he is taking complete control of the JSP towards the election.