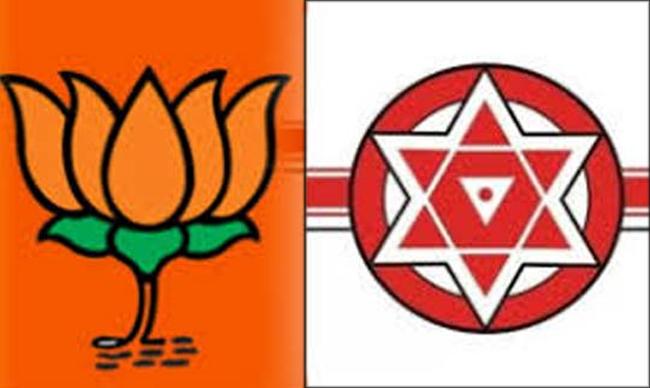 Bharatiya Janata Party, which has failed to prove its existence in Andhra Pradesh in the last assembly elections in 2019, is desperately trying to regain its lost identity at least to some extent in the next assembly elections.
Since the BJP knows that it has no chance of winning even a single seat despite having such a massive strength at the Centre, it is banking on the Jana Sena Party headed by power star Pawan Kalyan to make its presence felt.
But unfortunately, Pawan is also facing a similar situation. Having failed to win even a single seat, despite having such huge fan following, the Jana Sena Party chief is hoping that he could win at least a few seats if he can have a tie-up with the Telugu Desam Party by preventing a split in anti-establishment vote.
Both the BJP and Jana Sena Party have no specific agenda of their own to appeal to the people, if they want to sail together without the TDP.
The BJP national leadership is said to be of the view that both the parties need an emotional issue that can checkmate both the YSRC and the TDP.
During the recent meeting with Pawan Kalyan at Visakhapatnam, Prime Minister Narendra Modi is learnt to have discussed this point.
According to sources, the Prime Minister suggested that Pawan Kalyan take up the Amaravati capital issue more effectively than the TDP.
At the same time, the BJP will also take up the Amaravati capital issue in a big way and extend all support to Pawan Kalyan. The Centre, too, would clarify its stand in support of Amaravati soon, Modi is learnt to have said.
If both the BJP and Jana Sena can hijack the Amaravati issue from the TDP and make it an election plank, it would have huge impact on the electorate.
"Since the YSRC is also planning to go to the next elections on three capitals vs Amaravati plank, it would be advantageous to the BJP-Jana Sena alliance," sources said.
But if the strategy turns out to be an advantage to the TDP, then Pawan Kalyan would be neither here nor there.
So far, the BJP or Pawan Kalyan have not put up any big fight for Amaravati and one wonders whether the people would really believe them.