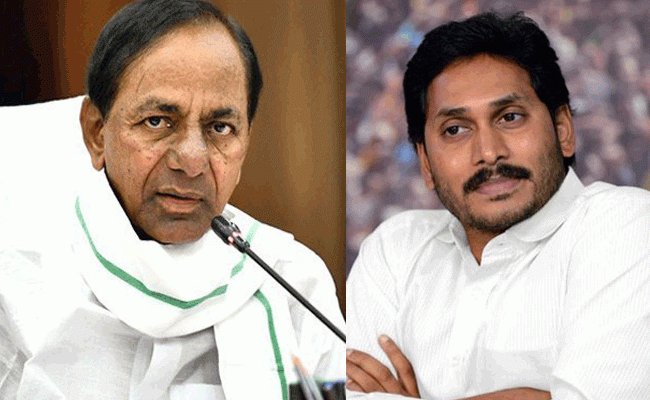 For the last few months, there has been a war of words between Telangana and Andhra Pradesh leaders over Krishna river water sharing, power supply position and implementation of welfare schemes.
Though the slugfest appeared to have subsided for some time, it has erupted once again now for no reason.
On Friday, Telangana minister for roads and buildings V Prashant Reddy and Andhra Pradesh minister for information and public relations Perni Nani indulged in a wordy duel once again.
It started with Prashant Reddy making pungent comments against Andhra Pradesh chief minister Y S Jagan Mohan Reddy stating that the latter was begging for money to run the government.
"During the days of Telangana movement, Andhra leaders used to comment that if the separate Telangana state is formed, people of Telangana would have to beg on streets for money. Today, it is Jagan who is running from pillar to post at the centre begging for money to run his government," he said.
He said Andhra Pradesh was virtually running with the alms given by the Centre.
"It has even gone to the extent of fixing meters to the agriculture pumpsets under pressure from the Centre, which imposed the condition to release money to AP," he pointed out.
Within hours, there was a counter attack from Perni Nani. He said if Jagan was begging the Centre for money, what for KCR was going to Delhi so frequently.
"Yes, we are asking the Centre for money which is due to the state. But what for KCR is going to New Delhi, if not for begging?" Nani asked.
The AP minister said Jagan did not follow double standards like KCR.
"Unlike the Telangana chief minister, Jagan does not have the habit of prostrating before Central leaders in Delhi and then projecting a belligerent posture back home. He will be friendly with friends and confronting with the rivals," he said.
Ridiculing the claim of the TRS leaders that Telangana is a rich state, Nani sought to know how much money the KCR government was due to pay to the contractors.
"He is enjoying the fruits of the development done by the Andhra rulers during the combined regime," he criticised.