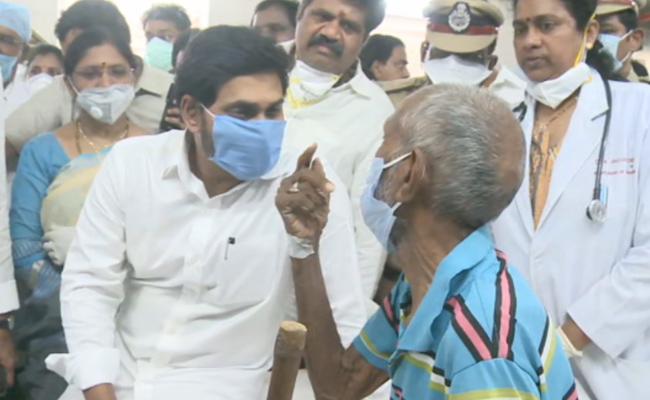 BJP leaders Kanna lakshmi Narayana and Vishnu Kumar Raju have appreciated Andhra Pradesh Chief Minister YS Jagan Mohan Reddy's announcement of Rs 1 Cr ex gratia to the families of the deceased in the LG Polymers gas leak mishap at Vizag.
Kanna Lakshminarayana said, "We welcome Chief Minister's decision to give an ex gratia of Rs 1 Cr to the families of gas leak victims. I appreciate this on behalf of Bharatiya Janatha Party".
Vishnukumar Raju, another BJP leader also said, "I have seen many Chief Ministers. But announcing this much of amount on the spot is something highly commendable and no one did this before. I appreciate YS Jagan for this. The idea to look after the families of the deceased financially by leaving no room for further criticism is worth a praise" .
In a mail correspondence to the editor of greatandhra.com, a reader by name Somesh Kumar from Vijayawada wrote, "Of course, there are pros and cons in this announcement. While the families of the victims and general public welcome this kind gesture now, there are chances of demanding an amount on par with this in future in the incident of similar mishaps those take place due to human error. Though the industrial accidents are very rare, the train and bus accidents do occur frequently. In such occasions, there will be huge burden on the government".
Another mail we received in contradiction is from Raghava Rao (place not mentioned)- "Earlier CMs used to leave the issue by giving an ex gratia of Rs 5 lakh or Rs 10 lakh. Such amount will never be enough to make the families financially stable. But this Rs 1 Cr ex gratia is something not expected. Though the amount cannot be equalled to the lost life of the family head, this will surely give good hope for future. This speaks volumes about great heart of the Chief Minister".
The bottom line is Rs 1 Cr ex gratia has become talk of the two states at present.