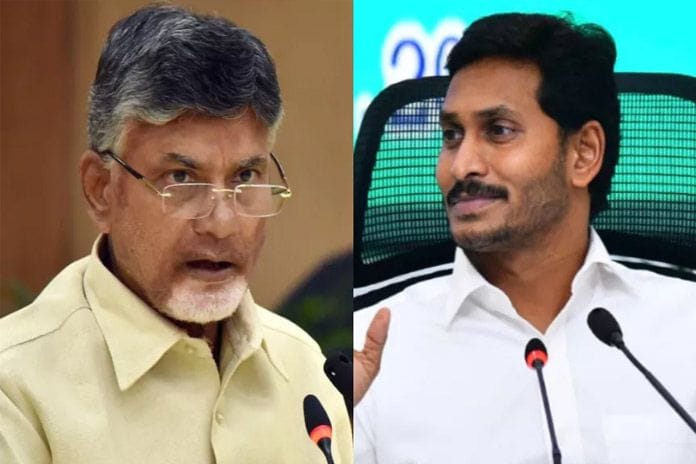 For the last few days, we have been listening about new terminology in Andhra Pradesh politics, that has never been heard anywhere in the country.
At least two new words have been coined in the state politics – one is political guerrilla war and another is state terrorism. While the first one was invented by YSR Congress party president and chief minister Y S Jagan Mohan Reddy, the second was created by his bitter rival, Telugu Desam Party president N Chandrababu Naidu.
Jagan used the term "political guerrilla warfare" while addressing the police at the AP Police Duty Meet held at Tirupati last week.
He coined the term in reference to the recent spate of attacks on temples and desecration of idols of Hindu gods, implying that some vested interests in politics
Obviously, he was pointing out an accusing finger at the TDP president who, he suspected, was the brain behind the attacks on temples. These vested interests indulge in desecration of idols in temples that have no security; spread the message and pictures in the social media, he said.
"Subsequently, they are carried in select media houses like Eenadu, Andhra Jyothy and TV5 and the same would be repeated by the TDP leaders to malign the government. This is nothing but political guerrilla warfare," Jagan said.
As if to counter Jagan's onslaught, Naidu came out with the word "state terrorism" or "government terrorism."
In a statement on the occasion of Swamy Vivekananda birth anniversary, the TDP chief said in the last 19 months, all the positive investment climate in AP was destroyed. The ruling party pushed the State into darkness with zero development.
Naidu deplored that the 'government terrorism' had struck fear in the hearts of all sections of the society. False cases were filed and thousands of youth were imprisoned unlawfully. The social media activists were implicated in wrong cases.
"Hundreds of places of worship came under attack, which was not seen before in the 67-year history of the State. The people had never ever seen such a vindictive and arrogant regime before. This is nothing but state terrorism," he said.
He pointed out that all democratic institutions were coming under the government attack. The legislature, the judiciary, the courts, administrative machinery, the media and all constitutional institutions came under an unprecedented attack. At such a hopeless juncture, the youth should shoulder the responsibility to put the State back on the track, he said.
Click Here for Latest Direct-to-OTT Releases (List Updates Daily)