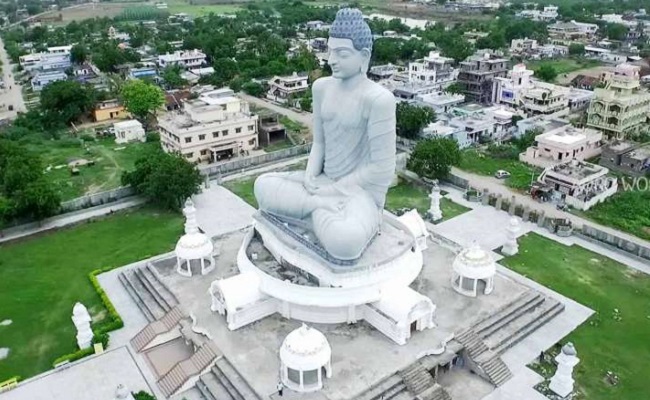 Amaravati is entirely a new city proposed by Chandrababu Naidu when he was chief minister during 2014-19, immediately after bifurcation.
He took up this task of building completely a new city, after his successful attempt of creating or building a third city, Cyberabad, next only to Hyderabad and Secunderabad.
But what he missed was that Cyberabad was easy for him as he just named a place where some constructions were already available around Madhapur and other places.
Though he claims to have built the entire Cyberabad city, what he actually does was constructing the Cyber Tower and named it by including the areas on the outskirts, which already have the city culture and look.
Unfortunately, in Amaravati, there was no urban culture nor the multi-storeyed constructions that provide city look. Amaravati is just a mixture of 29 villages with agriculture background.
Chandrababu Naidu, who was riding on his self-acclaimed success of building Cyberabad, announced that a new capital city for AP would require around Rs 5 lakh crore. He said this at the time of bifurcation and launched the Amaravati project.
The government had spent Rs 5,674 crore during his tenure to provide basic infrastructure besides land acquisition and paying annuity to the farmers and compensation to the landless labour.
Having invested all this, what was provided is a two-storyed building for High Court, five buildings for secretariat and Assembly with two floors and half-finished seed access road. A handful of unfinished apartments for residential quarters for the staff.
What is required to be provided is more than what is provided so far. It would require Rs 5 lakh crore more as per Chandrababu Naidu's original assessment. But after his defeat in the 2019 elections, strangely he is now saying that Amaravati is self-financed city and it does not require funds from outside!
Whatever the amount this entire new place requires for development, it is clear that Jagan Mohan Reddy government is not prepared to spend it. Instead, the dispensation is ready to spend a few crore of rupees and make Visakhapatnam as the capital of the State.