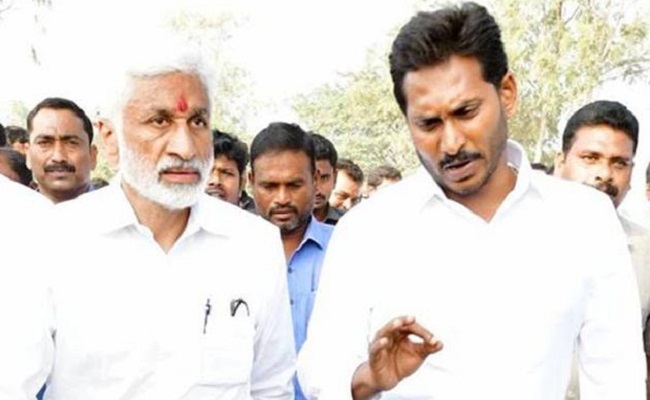 It is a known fact that YSR Congress party general secretary and parliamentary party leader V Vijay Sai Reddy enjoys a virtual No. 2 position in the party, next only to party president and chief minister Y S Jagan Mohan Reddy.
There are no hurdles for Sai Reddy for touring any part of the state and particularly in Visakhapatnam, which is going to be the new administrative capital of the state, it was Sai Reddy who is calling shots in the administration.
So, when Jagan wanted to fly to Visakhapatnam to call on the people affected by gas leakage tragedy on Thursday, it was nothing but natural to see Sai Reddy accompanying the chief minister.
As Jagan was about to get into his car to go to the helipad, Sai Reddy also entered the car in the second row. But within seconds, Sai Reddy got down from the car and in his place, health minister Alla Nani entered the vehicle.
This led to the talk that Jagan had asked Sai Reddy not to come with him to Visakhapatnam and told him to get down. Instead, he preferred Nani as he is the health minister.
The report immediately went viral in the social media, particularly in the TDP circles, who spread the talk that Jagan had pulled up Sai Reddy, as he was not happy with the latter in the recent past.
However, Nani gave a clarification later. He said it was Sai Reddy who had volunteered to drop out from Visakhapatnam tour to accommodate him.
"It was Sai Reddy who gave his place to me out of respect for me. It is unfortunate that the TDP leaders are resorting to vicious propaganda," Nani said.