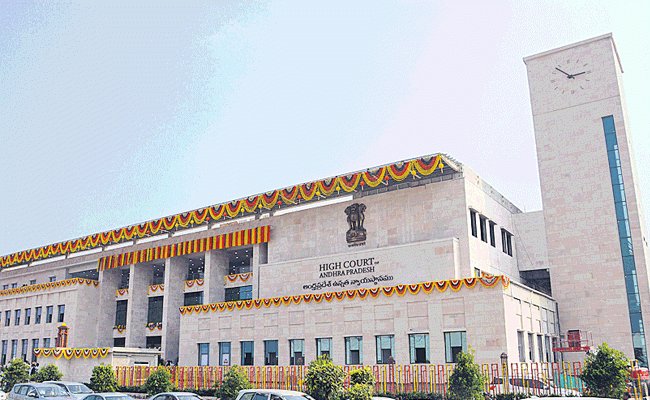 It looks the formation of three capitals for Andhra Pradesh by the Y S Jagan Mohan Reddy government is an unending saga, as the state high court once again deferred the hearing on the cases till November 15.
A full bench of the Andhra Pradesh state high court comprising chief justice Arup Kumar Goswami, Justice Joymalya Bagchi and Justice Nainala Jayasurya on Monday took up the hearing the cases pertaining to batch of petitions filed by the farmers of Amaravati challenging the Jagan government's decision to form three capitals for the state.
However, counsels for the petitioners (Amaravati farmers) requested the bench to defer the cases due to increasing number of Covid-19 cases in the state.
The state government's counsels, too, said it was for the court to decide how and when to conduct the hearings, after examining the pandemic conditions across the country.
After hearing the appeals of both the petitioners and respondents, the high court bench announced that the hearing on the three capitals issue would be deferred to November 15, after going through the status report of the Covid-19 cases in the country in general and Andhra Pradesh in particular.
It would mean there would be no development on the three capitals issue for at least another three months. There is no guarantee that the high court will take up the hearing into the case in November because of uncertainty in the pandemic situation.
If the high court resumes hearing in November, one doesn't know how long this hearing would go on. Even if the high court gives its judgement after prolonged hearing, there is no guarantee that the petitioners or the government would not go to Supreme Court depending on the judgement of the high court.
Under these circumstances, one wonders whether the issue of three capitals is settled in the near future.
The issue has been dragging for more than a year. The high court resumed the hearing on the three capitals issue after a gap of more than five months, when the new chief justice decided that he would take up the hearing afresh, though an earlier bench headed by former chief justice J K Maheshwari had already commenced hearing in the past.
The new bench was supposed to hear the cases afresh from May 3 and the advocate general requested that the cases be heard at the earliest, so that the government could have a smooth administration.
But, on May 2, the state high court deferred its decision to hear the cases afresh to August 23 on the ground that it was not in position to take up regular hearing of any cases in the wake of growing number of Coronavirus cases.