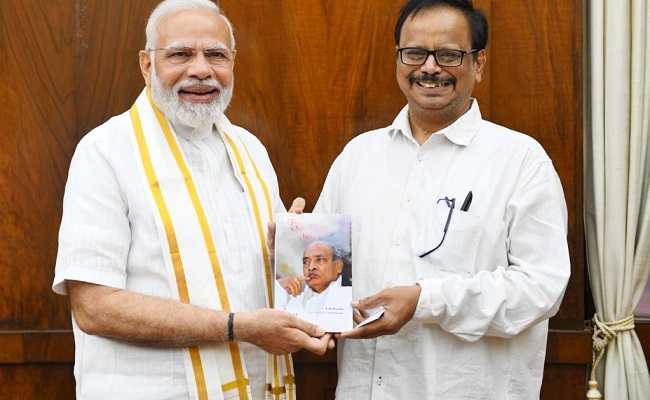 It is very rare that Prime Minister Narendra Modi interacts with media, let alone giving interview to the reporters. In the last eight years, Modi might have given a couple of interviews to high profile media persons close to the saffron brigade.
So, getting an opportunity to have a one-on-one interaction with Modi is the rarest of rare opportunity to any journalist. So far, not a single Telugu journalist got such an opportunity.
But on Tuesday, Modi had a 20-minute chat with senior journalist of Andhra Jyothy Telugu daily in New Delhi A Krishna Rao at his chambers in Parliament.
Rao presented his newly-written book "The Quintessential Rebel" on former Prime Minister P V Narasimha Rao to Modi on the occasion.
During the interaction, Modi asked about the present political situation in Telugu states, particularly in Telangana.
He asked about the prospects of the Bharatiya Janata Party in Telangana and what are the gaps that could be filled to improve the situation.
It is not immediately known what Rao had told the Prime Minister, but it clearly shows that Modi is very seriously planning for a victory in Telangana.
He is taking feedback from everybody and the interaction with a senior journalist from Andhra Jyothy would have definitely helped him.
Modi regretted that the Congress had not acknowledged the contributions made by Narasimha Rao to the nation.
"The Congress believes in glorifying only one family. It doesn't recognise the other stronger leaders," he said.
"Narasimha Rao had made great contribution in building the modern India. He played a major role in every decision taken by the Congress party. Yet, the party leadership sought to underplay his services to the nation," he criticised.
Modi reminded that he had acknowledged the services of all the Prime Ministers who ruled India since Independence by building Pradhan Mantri Sangrahalay at Nehru Memorial Library in Teenmurti Bhavan.
"We have incorporated the achievements of each and every Prime Minister in the Sangrahalay," he said.