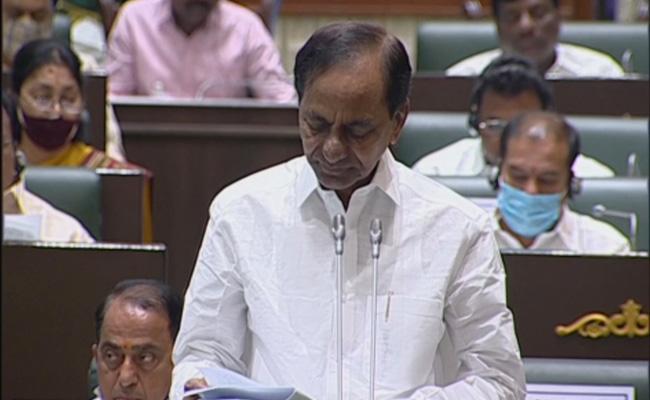 Fresh from the victory of the Telangana Rashtra Samithi in the just concluded MLC elections from two graduates' constituencies in the state, chief minister K Chandrasekhar Rao announced an increase of 30 per cent in the salaries of all the government employees.
Though the salary hike was due in 2019 itself, the KCR government has been postponing the same on one pretext or the other, including the last year's Coronavirus pandemic.
His government has also not been paying any interim relief to the employees pending pay revision commission recommendations.
Yet, the state government employees voted for him in a big way in the recent MLC elections, following a meeting with KCR a few days before the polling where he promised to give them a decent salary hike. And it was only after the TRS won the elections, he announced the pay revision.
As promised before the 2018 December assembly elections, the chief minister also announced enhancement of retirement age of all the employees from 58 to 61 years with immediate effect.
According to KCR, the increase in salary would benefit 9,17,797 employees of all categories, including all the government employees, grant-in-aid employees, work-charged employees, daily wages employees, fulltime contingent employees, part-time contingent employees and pensioners among others.
While the Pay Revision Commission in its report recommended a hike of only 7 percent, KCR announced that his government has decided to give 30 per cent fitment (hike in basic salary) to the employees with effect from April 1.
The chief minister said his government had also decided to pay arrears of salary hike for the last 12 months to the employees, though the financial position of the state was very bad due to pandemic. The arrears would be paid to the employees along with their other retirement benefits, he said.
KCR also announced increase in the retirement gratuity to be paid to all the employees from the present Rs 12 lakh to Rs 16 lakh.
"Similarly, the government has decided to reduce the age of eligibility for the retired employees from 75 to 70 years for the payment of additional quantum of pension of 15 per cent," he said.