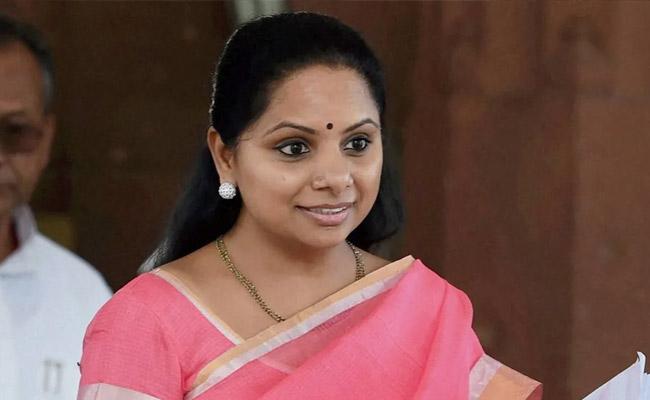 Telangana Rashtra Samithi MLC and chief minister K Chandrasekhar Rao's daughter Kalvakuntla Kavitha on Thursday said she was not afraid of any arrest by the Central investigation agencies in connection with the Delhi liquor scam as long as she enjoyed the support of the people of Telangana.
"What will they do? They will at the most arrest me and send me to jail. They are not going to hang me, right?" Kavitha said, while speaking to reporters at her residence in Banjara Hills.
She said there was nothing to be worried about arrests as long as the people were with the TRS.
"The TRS shall continue to work for the people of the state as well as the country and fight against the BJP," she said.
The TRS MLC was named in the remand report submitted by the Enforcement Department in the Delhi court, following the arrest of Amit Arora, one of the accused in the liquor scam.
Kavitha said she would extend her full cooperation to the ED authorities probing the Delhi liquor policy scam.
However, she accused the Bharatiya Janata Party of deliberately leaking her name to the media to damage her reputation.
"The people will not tolerate such cheap tactics," she said.
The chief minister's daughter alleged that the ED authorities had deliberately included her name in the remand report only in retaliation to the TRS government exposing the BJP's attempts to topple the Telangana government.
"In the last eight years, the Narendra Modi government has toppled democratically-elected governments in as many as nine States by misusing the Central agencies like the CBI, ED and Income Tax department," she pointed out.
The TRS MLC said it had become a routine practice for the BJP to target the opposition-ruled states by misusing the Central agencies.
"Wherever elections are held, the ED reaches first before Modi goes there. As Telangana is about to face elections in December next year, the ED has arrived in Telangana. It is a routine strategy and a cheap political gimmick by the BJP," she said.
However, the BJP's tactics did not work in Telangana, where the people are politically conscious. So, the saffron party tried to harm the reputation of the TRS by leaking her name in the scam.
"We don't have to worry about such tactics," she said.