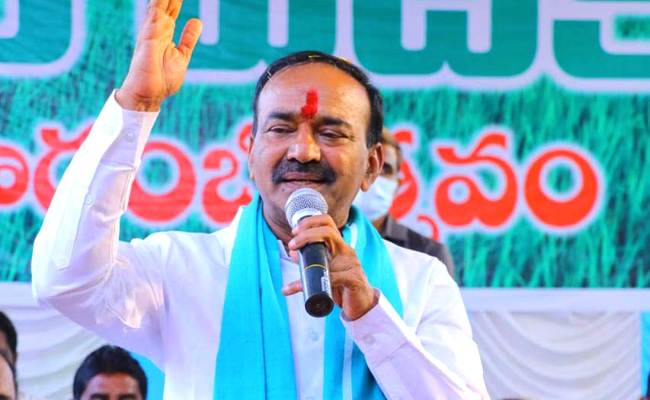 Telangana state medical and health minister Eatala Rajender appears to be turning more and more philosophical these days, amidst reports him getting isolated gradually by the Telangana Rashtra Samithi leadership.
While continuing to participate actively in all the programmes across the state, Rajender is speaking in a frustrating and philosophical tone at every meeting.
On Friday, too, the minister made some sharp comments at a meeting in Ravindra Bharati, which apparently reflected his dissatisfaction over the leadership.
He said though the rulers are taking oath on the Constitution of India, they were not implementing properly.
"We have to function according to the aspirations of the people and respond to the issues as citizens of the country," he said.
Rajender said just like nobody would get any seat without merit, even the rulers, too, should have the merit.
"Their merit comes from the understanding and implementation of the Constitution of India," he said.
He said it was not good for the country if the wealth was concentrated in only a few people.
"If one person like Ambani becomes rich, India cannot be called a rich country. It does not cover up the poverty in the state," he said.
The minister also took an indirect dig at the party leadership for trying to crush the people's movements.
"Today, the farmers are agitating on the borders of Delhi. Tomorrow, it could come to our doorstep and we have to wake up before it does," he said.
He also said if the movements were launched for the welfare of common man, everybody should lend their support to such movements.
"I am not speaking for the sake of politics, but for the people. The governments should not take up anti-people decisions," Rajender said.
Click Here for Latest Direct-to-OTT Releases (List Updates Daily)