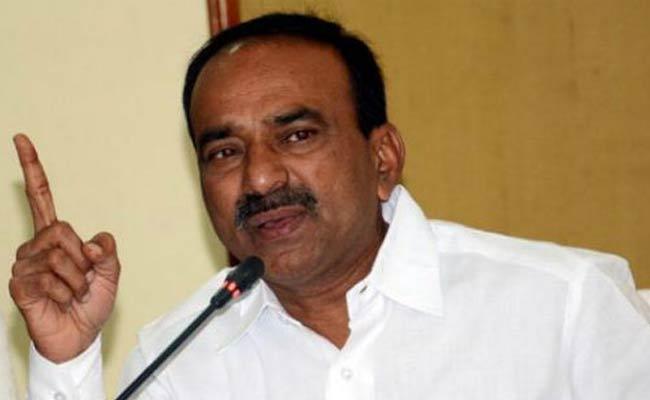 The unusual silence of senior TRSi leader and Huzurabad MLA Eatala Rajender, who was sacked from the state cabinet by CM K Chandrasekhar Rao early this month, has led to the talk that he is sending feelers to the party leadership for a compromise.
The reason for this talk was Eatala's refusal to make any serious comments against KCR and his statement that he had never defied the party discipline.
He also did not respond positively to the suggestions that he should take a bold decision and build up an alternative to the TRS in the state.
However, Eatala seems to have decided to get out of the TRS and take up a different political route. Apparently, he has realised that his days in the TRS are numbered as there was no positive response from the TRS leadership to his reconciliatory gestures.
It was evident from the way Eatala reacted strongly to a report published in a local English daily stating that he had sent signals to the chief minister for surrender and was seeking the latter's appointment.
Describing the report as far from truth and baseless, Eatala said he was fighting for his self-respect and such report would only mean degrading his self-esteem.
"It sends wrong signals to the people and will damage my reputation and personality," he said.
So, Eatala has sent a clear message that there is no question of compromising with KCR and he will choose his own path to sustain his political career. He is expected to put in his papers from the assembly membership and the party sooner or later.
On the other hand, it appears KCR wants Eatala to get out of the party on his own, instead of sacking him on disciplinary grounds.
The TRS chief knows that if he takes any action against Eatala politically, it would make the latter a martyr and fetch him a lot of sympathy.
That is why he instructed his cabinet colleagues not to make any statement on Eatala.
"Let us leave him and concentrate on our own work," KCR told his ministers at the cabinet meeting on Tuesday.
Sources said Eatala is waiting for the right time to announce his political plans, since any decision at this stage when the Coronavirus pandemic is very severe would only backfire on him.
Click Here for Latest Direct-to-OTT Releases (List Updates Daily)