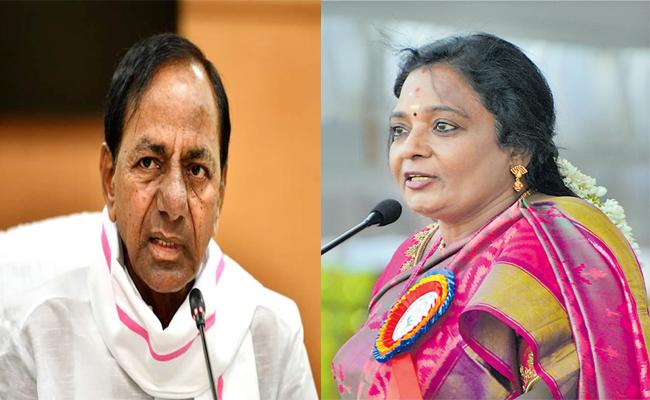 It has not been three weeks since Telangana chief minister K Chandrasekhar Rao and governor Tamilisai Soundararajan appeared to have sunk their differences and exchanged pleasantries at Raj Bhavan on the occasion of the swearing-in of new chief justice of Telangana high court Ujjal Bhuyan.
But the cold war between the chief minister and governor seems to be continuing even now. It was evident from the way both of them chose to travel to the flood-ravaged areas of Bhadrachalam and other parts of Telangana.
Within hours of the Chief Minister's Office announcing that KCR will undertake an aerial survey to the flood-affected areas on Sunday, the Raj Bhavan issued a statement saying Tamilisai will be touring the flood-hit areas on the same day, but by road.
In fact, KCR left for Warangal on Saturday evening itself and will have a night halt there. On Sunday morning, he will undertake the aerial survey to assess the natural calamity and flood related damages due to incessant rains in river Godavari catchment zones.
The chief minister will conduct aerial survey on Godavari between Kadem project and Bhadrachalam. Chief Secretary Somesh Kumar will also join CM in the survey, an official release from the CMO said.
At the same time, the Governor will also be leaving on Saturday evening by Manuguru Express to visit flood hit areas of Bhadradri-Kothagudem district. She canceller her visit to New Delhi to meet President of India Ramnath Kovind and decided to tour the flood-affected areas.
The Governor has also instructed the Indian Red Cross Society (IRCS) and ESIC Medical College teams to offer medical and other relief measures to the people in shelter camps and in other flood affected areas.
The Governor is likely to visit the shelter camps and will interact with the people and mobilise the relief supplies from the IRCS and other philanthropic agencies and individuals.