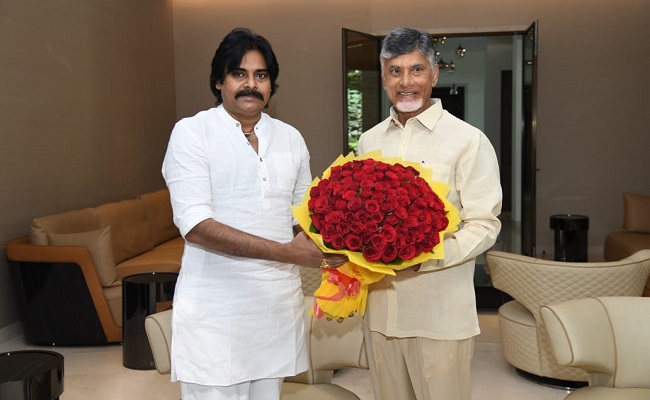 Kapus have been trying to take Jana Sena chief Pawan Kalyan over their shoulders and take him to the top seat, if not in the immediate future.
But to their utter shock, Pawan is carrying TDP chief N Chandrababu Naidu over his shoulders.
Majority of the Kapus are not in favour of offering their shoulders to Naidu anymore. They feel that Naidu betrayed them over the years.
They are also upset with Naidu for what he had done to Kapu icon Mudragada Padmanabham when the TDP was in power.
Some Kapu intellectuals have been advising Pawan Kalyan to stay with the BJP and be their chief minister candidate for every subsequent election.
They have also told him that the TDP would die a natural death after the 2024 elections and the Jana Sena-BJP combine would occupy the second place in AP politics.
However, Pawan Kalyan did not give his ears to them and is after the TDP trying to breathe new life to the yellow party.
But for the youth who may not vote, not many Kapus are with Pawan Kalyan because of his slavery politics with the TDP.
While the Kapus want to emerge as a strong force on their own, Pawan Kalyan's pro-TDP stand makes them extra players.
The immediate reaction of a section of the Kapus to Pawan Kalyan visit to Naidu in Hyderabad is any indication, not many of the Kapu leaders are accepting the TDP-Jana Sena alliance in the 2024 election.
But, Pawan Kalyan, if the political developments between the TDP and Jana Sena are to be analysed, will go with the TDP and the Kapus would be playing second fiddle to the Kamma leaders.
The TDP-Jana Sena alliance would make the Kapus as subordinates to the TDP's dominant Kammas, if Pawan finalises to go with the TDP.