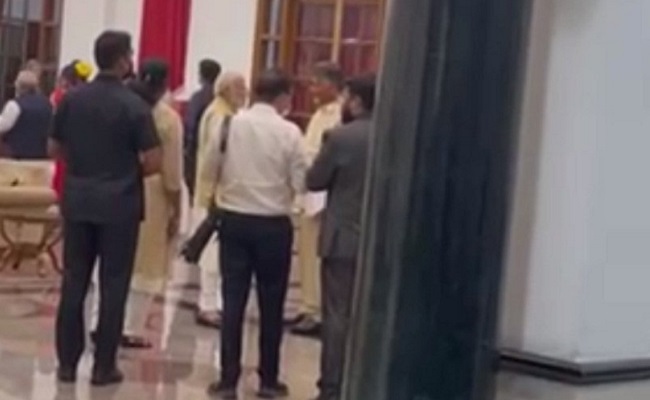 It was a fact that TDP chief N Chandrababu Naidu had an interaction with Prime Minister Narendra Modi on the sidelights of a national conference on Avazi Ka Amruth in Delhi the other day.
The two stood a couple of meters away from the rest of the people and there was no scope of overhearing them because of the distance.
What transpired between the two for five minutes remains a secret unless either of them reveal.
Even if anyone of them reveal, it would be in their favour and cannot be taken for granted as secrecy is important in politics.
If Modi reveals, he will say to his political advantage and might claim that Chandrababu Naidu had offered him majority MP seats if alliance is restored.
If Naidu says, Modi must have asked him to keep visiting the national capital to inspire every politician.
Of course, this is what a section of the media presented in Andhra Pradesh about this meeting.
But the question is, if Modi wanted Naidu to be in Delhi very frequently, what was the reason?
Is Modi in favour of restoring ties with the TDP in Andhra Pradesh or is Modi interested in using Chandrababu Naidu in the national politics?
In fact, Modi does not need leaders like Naidu as he has aplenty around him or rather he is equal to a dozen of such leaders.
Naidu is not interested in the national politics and limits himself to the state politics. In fact, Naidu wants to become the chief minister again and for that he must have requested Modi for alliance.
The big question now is will Narendra Modi and Amit Shah accept Chandrababu Naidu again and restore ties with him?