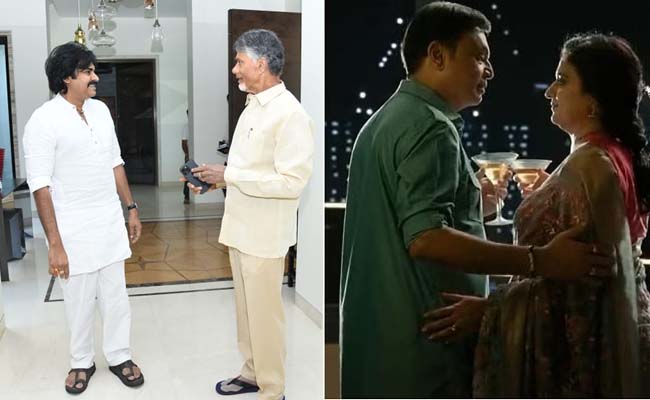 The netizens in social media are trolling by drawing comparisons between the bond of Naresh and Pavitra with Chandrababu and Pawan Kalyan.
Ever since Pawan Kalyan met with Chandranbu at the latter's residence in Hyderabad, the story has caught fire.
The YCP Ministers and leaders are saying they have exposed the illicit relation between Pawan and Chandrababu long ago.
To this, netizens added some masala and started trolling by comparing it with the recently made announcement about the union of Naresh and Pavitra Lokesh.
A video was also released by Naresh in this matter which attracted the trolls of netizens.
It is also known that Ramya Raghupathi the third wife of Naresh came to the media and asked how he can marry Pavitra without giving divorce to her. The family issue has been going on murky in the media for quite some time.
Now the netizens are comparing Ramya to BJP, Chandrababu to Naresh and Pawan to Pavitra Lokesh. This triangular love story has been made public with heavy trolling now.
Many are saying that it is good that Naresh made his relationship with Pavitra public unlike Chandrababu with that of Pawan Kalyan.
While Ramya is still running behind Naresh in spite of him making public love with Pavitra, BJP is also hinting that it would continue the relationship with Pawan in spite of his open love with CBN.
This comparison is now widely spread in social media.