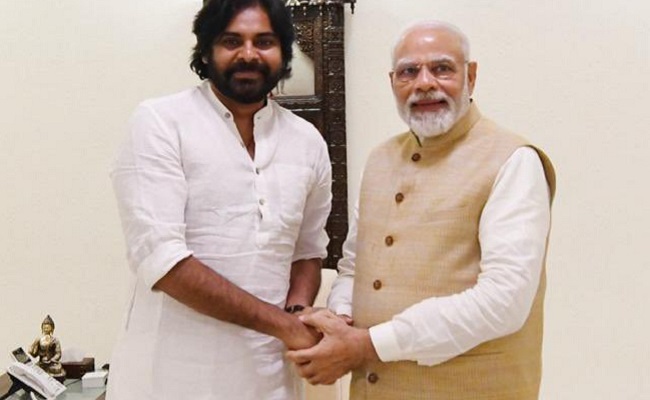 It has been three days since power star and Jana Sena Party chief Pawan Kalyan had a half-an-hour-long meeting with Prime Minister Narendra Modi at INS Chola guest house in Visakhapatnam.
Nobody knows what transpired between Pawan and Modi at the meeting, except the statement from the power star that he had shared whatever information he had with the Prime Minister on the present political situation in the state and he hoped that the meeting would bring good days to the state.
Since then, the power star has not opened up on what exactly he had shared with Modi and what the latter had told him on the political situation in Andhra Pradesh.
There were reports that he had complained to Modi about the lack of cooperation from the state BJP leaders, but even that has no confirmation from anyone.
The unusual silence from Pawan on his meeting with Modi has naturally led to a lot of speculations in the media.
A section of the media has speculated that Modi had assured of complete cooperation from the BJP to Jana Sena and both the parties would work together in complete coordination hereafter.
Sources said Modi had given a roadmap to the power star for the future course of action by the two parties, but had not made any mention of the Telugu Desam Party while referring to the pre-poll alliance between Jana Sena and the BJP. And that would mean he doesn't want the TDP to be part of the alliance.
"For the last two days, Pawan, too, has not made any statement that would indicate his proximity with the TDP. At the same, the TDP leaders, too, have not been making any comments on the power star's meeting with Modi," sources said.
Another speculation is that Modi had given a patient hearing to Pawan's proposal of an alliance that includes the TDP, but had not made any commitment on the same.
"He has asked Pawan not to talk of any alliances with the TDP for now and both the BJP and Jana Sena could take a call at the time of elections," another source said.