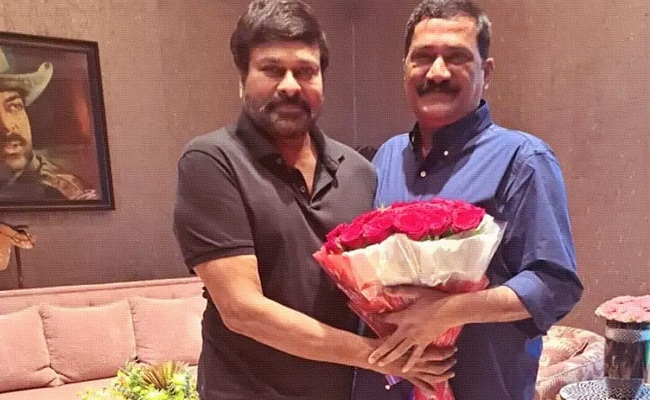 The sudden meeting of senior Telugu Desam Party leader and Visakhapanam (north) legislator Ganta Srinivasa Rao with megastar Chiranjeevi in Hyderabad on Saturday kicked up a lot of speculation in the political and media circles.
Though it is said to be just courtesy call and Ganta wanted to congratulate Chiranjeevi on the success of the latter's latest film "Godfather," there are speculations that both of them had talked about various issues including the latest political situation in Andhra Pradesh.
According to the speculations in a section of media, Ganta has asked Chiranjeevi to take the lead in the consolidation of Kapu community which is being denied due share in power.
In the past, when Chiranjeevi entered politics by floating Praja Rajyam Party, Ganta played a major role in it. Both of them tried hard to bring about a unity in the Kapu community, but for various reasons, the plan did not work out and Chiranjeevi was forced to merge his PRP with the Congress.
Later, Ganta joined the TDP and became a minister in 2014. He got re-elected in 2019, but had remained isolated from the active politics of the TDP. Only in the recent past, he has become a little active in the TDP again.
At the same time, the Kapu leaders have also started coming together again to form a think tank to strive for achieving political power. And Ganta has been actively involved in the same.
The recent comments made by Chiranjeevi extending moral support to his younger brother Pawan Kalyan and his Jana Sena Party has rekindled the hopes of the Kapu community again. If Chiranjeevi openly supports Pawan in future, it will give a big boost to the community by next elections.
The meeting of Ganta with the megastar is being viewed in this context. They are understood to have discussed the prospects of Jana Sena in the coming days and how Chiranjeevi could help his brother to achieve his goal.
In the event of Jana Sena joining hands with the Telugu Desam Party, what kind of role Chiranjeevi would play also has come up for discussion, the speculative reports said.