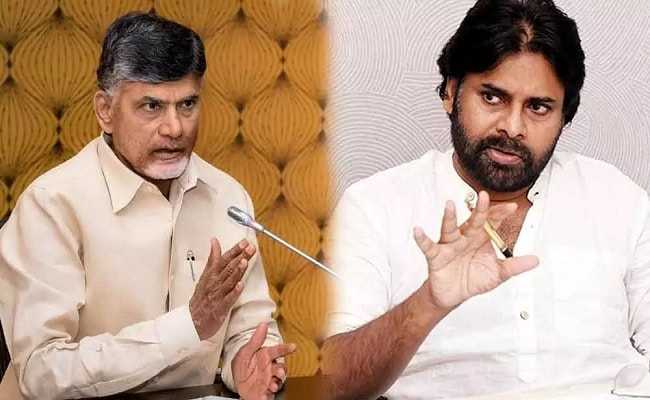 It has been 27 years since the Andhra politics witnessed the country's biggest backstabbing episode – that of legendary actor and former chief minister N T Rama Rao by his own son-in-law N Chandrababu Naidu, who not only usurped the party, but also power from him.
The backstabbing episode is still haunting Naidu as his rivals point it out and time again. Though the present generation do not have much idea about it, but it is still fresh in the memory of the people of that period.
After a gap of nearly 27 years, we are now hearing about the possibility of yet another backstabbing in Andhra politics.
This time, the victim will be power star and Jana Sena Party chief Pawan Kalyan and the backstabber is his close aide and former assembly speaker Nadendla Manohar.
Well, this is the prediction of maverick director Ram Gopal Varma. Known for his controversial tweets and loose talk, Varma came out with an interesting tweet on Saturday, targeting both Pawan Kalyan and Naidu.
"In the past, it was Brutus who backstabbed Julius Caesar. Later, Nadendla Bhaskar Rao had done it for NTR and Chandrababu Naidu again for NTR. This time it will be Nadendla Manohar who will backstab Pawan Kalyan, with the support of Naidu. Last night, god appeared in my dream and told me that both Naidu and Nadendla would backstab Pawan Kalyan," Varma tweeted.
Expectedly, Varma's tweet triggered a major uproar among the Jana Sena Party workers and cadre.
"On one hand, you say you don't believe god. On the other, you now say god appeared in your dreams and told me this rubbish. What is this? Have you forgot to mix water in Vodka?" a netizen commented.
Some others used vulgar abuses to target Varma. A few others say Varma won't change despite criticism. So, it would be better people ignore him and don't bother about his silly tweets, they said.
In any case, Varma triggered an interesting debate on the social media. Of course, nothing can be ruled out in politics these days!