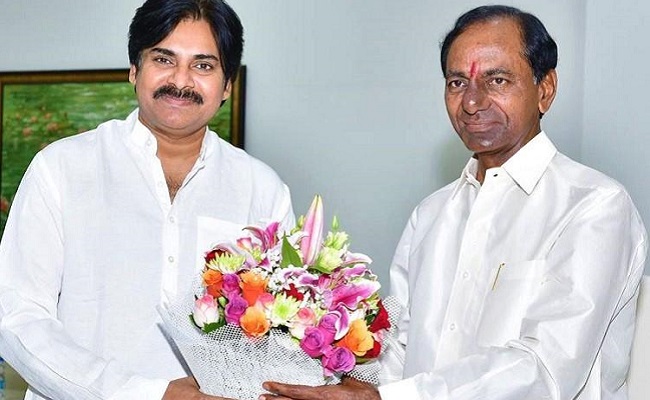 It is just around a little more than a year left for the assembly elections in Andhra Pradesh and the political situation in the state is getting more and more interesting turns.
Jana Sena Party president and power star Pawan Kalyan has already announced that he would not allow the opposition votes to split as far as possible and the latest developments have indicated that he might enter into an electoral alliance with the Telugu Desam Party led by N Chandrababu Naidu.
Sources said the backroom negotiations between the two parties have already been going on and they are adopting some kind of give and take approach to strike a deal before the next elections.
Though Pawan and Naidu want the Bharatiya Janata Party, too, to join the alliance, but the BJP doesn't want to touch the TDP with a barge pole. It has more or less decided to go it alone in the next assembly elections, if the TDP-Jana Sena alliance materialises.
"The BJP will grow as a force independently and test its strength by going alone in the next elections. Unlike Jana Sena Party, it is not in a hurry to grab power," the BJP leader said.
The entry of Bharat Rashtra Samithi led by Telangana chief minister K Chandrasekhar Rao in Andhra Pradesh elections is making the things complicated for the Jana Sena-TDP combine.
Though the BRS as such doesn't have any major stakes in Andhra elections, it can play a spoil sport with the chances of the TDP and Jana Sena.
BRS is planning to join hands with the Communist parties and Aam Admi Party, which are fringe parties but have their own share of votes.
According to sources, KCR is targeting capturing the votes of Kapus and Velamas in north coastal Andhra and East Godavari districts and to some extent Kshatriya votes in West Godavari district.
"Though KCR might not succeed in capturing the votes of these sections completely, he would definitely cause a split in their vote bank, causing a huge impact on the prospects of the TDP-Jana Sena combine," sources said.
This would ultimately benefit KCR's good friend and YSR Congress party chief Y S Jagan Mohan Reddy, as these castes are said to be consolidating against the ruling party.
"So, if Pawan wants to prevent the split in the anti-incumbency vote, KCR is going to do exactly the reverse to benefit Jagan," sources added.
Thus, it is going to be a multi-cornered contest in Andhra in the next elections with the players being: YSRC, TDP-Jana Sena combine, BJP, BRS-AAP-Communists and of course, the Congress.
One can imagine the outcome, depending on the percentage of votes they secured in the last elections.