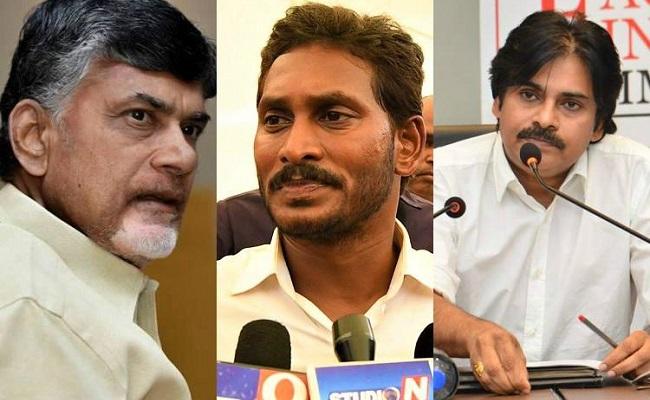 The arrest of Telugu Desam Party president and former Andhra Pradesh chief minister N Chandrababu Naidu by the Crime Investigation Department police in connection with the alleged Rs 371 crore skill development corporation scam has heated up the state politics.
As the elections to the state assembly are scheduled to be held in another eight to nine months, the political observers are busy making calculations on the political fallout of the arrest.
Some analysts say the arrest has generated a lot of sympathy for the TDP, while others say it would make the TDP headless and demoralise the entire party leaders and cadre. Since Lokesh won't be able to lead the party from the front, it would be disadvantageous to the TDP.
But Jana Sena Party president Pawan Kalyan quickly came to the support of Naidu and announced an alliance with the TDP without even waiting for the clearance from the Bharatiya Janata Party. Now, this might help the TDP to a large extent, say some other analysts.
However, what impact the entire development will have an impact on the common people remains to be a question.
It is now pretty evident that Naidu and Pawan will go into the people with a totally negative agenda – how the Jagan government has allegedly ruined the economy, how the chief minister is resorting to witch-hunting of its political rivals and how he is misusing the official machinery to harass Naidu and others.
But Jagan is banking purely on positive vote. He wants to go into the people by highlighting his welfare schemes and seeking their support for another term, if they want the schemes to be continued.
He is making an emotional appeal to the people asking them to vote for him again, only if they feel they got any benefit from his schemes. Surveys commissioned by Jagan have apparently revealed that his vote bank in the rural Andhra Pradesh is still intact.
Especially the reforms he has initiated in the education and health sectors have brought him a lot of positive image among the rural voters. And the YSRCP president is planning to consolidate his vote bank in the coming days by focussing on rigorously implementing the welfare schemes.
The only point of worry for him is how the neutral voters and urban voters would respond in the coming elections.
"But as long as he has the support of the rural voters, he doesn't have to worry about the victory," sources said.