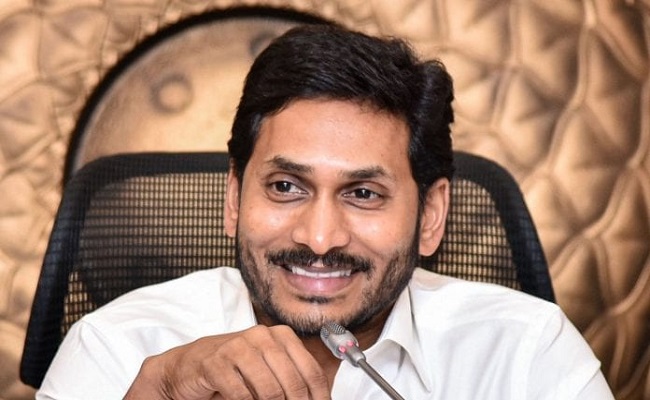 YS Jaganmohan Reddy's government has completed one year rule in Andhra Pradesh. Apart from discussing the hits and misses of the one year rule, an interesting discussion is going on Jagan's sincere attempts to overcome three allegations often leveled on him by the political opponents.
The opponents have made it a point to promote as a Goebbels theory to by effectively utilizing the yellow media. Not everyone believes those allegations but we have to accept the fact that a section of people started believing them with the indoctrination by yellow media.
Let us have a look at the three things.
1. Branding Jagan as a ruthless factionist.
2. Showing him as the most corrupt
3. Projecting him as anti-Hindu by showing his Christian identity.
Jagan and his supporters clearly know the mudslinging tactics of the opponents. So, Jagan made it a point to prove these allegations are wrong. Apart from delivering welfare-oriented governance, Jagan is never giving them a chance to prove his detractors right.
FACTIONISM:
Let us first talk about the allegation that Jagan is a factionist as often called by the TDP leaders. As the opponents tried to create a false image that Jagan is a factionist, he made it clear to the leaders of Rayalaseema not to visit Amaravati either on personal reasons or with an intention to approach him for other favors. He also warned them to maintain peace and any disturbance will not be tolerated.
Even if they wanted to extend wedding invitations, he asked them to hand them over in the YCP offices of their respective district headquarters and they will pass the invitation to him. He told them that he is the CM to the whole state but not just Rayalaseema. This way he avoided a few leaders who try to project themselves as factionists when they visit other places like Amaravati or Vizag. Otherwise these incidents will be blown out of proportions by yellow media with misleading headlines that lungi clad factionist gang landed in Amaravati etc.
The most notable aspect of Jagan's one year rule is that no faction-related incident registered in the entire state. Blackmailings in the name of factionists were also not reported.
CORRUPTION:
The TDP leaders have raised allegations that Jagan has swindled money to the tune of one lakh crores, thousands of crores and they have propagated blatant lies without any proofs. They have literally scared the people of AP not to vote for Jagan or else he will sell the entire state once he comes to power. Everybody knows that people did not believe those fake campaigns and they have wholeheartedly trusted Jagan by giving him a thumping majority.
If we look at the one year rule, corruption cases have hit the rock bottom in the state. Jagan's government had intensified ACB raids in the state to create fear among the employees that they will get caught if they resort to corruption. This strategy has worked very well and the government employees are staying away from corruption.
The yellow media which blows even a small thing out of proportion is staying quiet on the corruption all these days. The reason is that they don't have a case to project as if the hell has broken loose. This shows Jagan is working towards eradicating the corruption from the state.
ANTI-HINDU IMAGE
This is a very sensitive issue. They tried to create a fear among the Hindus in the state that Jagan will make AP a Christian state. But Jagan is trying to prove them wrong. He has taken some bold decisions. One of them being, the non-Hindus will not be accommodated in Hindu religious bodies like TTD. We can call it a sensational decision, no Hindu CM dared to take such a bold decision. This shows Jagan's respect for the sentiment of people from other religions.
His second initiative is that all the Hindu priests in the state are given monthly salary. They are very happy with Jagan because the previous governments conveniently ignored them.
The sale of unused TTD properties has become a hot topic in recent times. The TTD tried to auction them and deposit the money in the TTD treasury but there is a hue and cry all over. This was never an issue when the other CMs were in power. The opponents tried to gain mileage by showing Jagan's Christian identity again. Considering the developments and respecting the sentiments, Jagan's government has dropped the idea. He is seriously trying to protect the sanctity of TTD.
Everybody remembers the episode of former SVBC chairman Prudhvi Raj. When he was involved in a scandal, the TTD has immediately suspended him and it has not allowed other person from political backgrounds to occupy that position. By doing all these things he is trying to wipe off the anti-Hindu image that was created by the opponents.
In a recent development, Ramana Dikshitulu raised a point that an audit should be done for the TTD properties right from the period of NTR till now. If TTD and Jagan Government accept it and audits the TTD properties, it will become a historical step because all the scams of the previous governments will be unearthed. It has been a year since Jagan came to power. No financial scam or corruption case was caught in TTD.
The audit will be a great idea because it will show the entire world who is protecting the TTD properties and who tried to own them earlier. The entire Hindu population will come to know the real face of the opponents who are trying to project him as anti-Hindu.