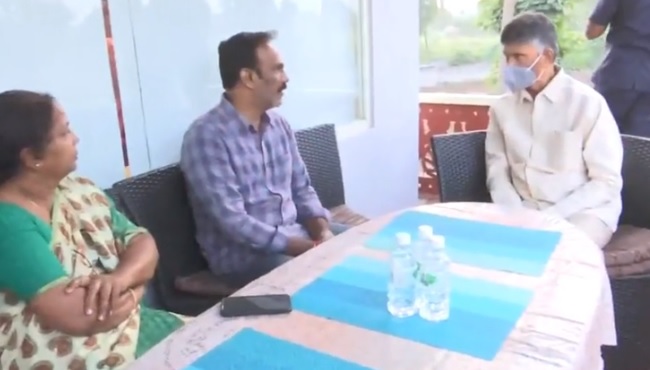 It took more than two decades for TDP chief N Chandrababu Naidu to see former MLA Vangaveeti Rathna Kumari face to face.
The TDP chief visited Vangaveeti's family in Vijayawada on Saturday to express solidarity to the family in the light of former MLA Vangaveeti Radha Krishna expressing life threat.
Chandrababu Naidu extended support to the family and had discussions with Radha Krishna and his mother Rathna Kumari.
It was in 1998, Chandrababu Naidu saw Rathna Kumari, who was then the MLA from the Vijayawada East Constituency, who won on the Congress ticket.
She had quit the Congress and became the MLA of the TDP after the Vijayawada Municipal Corporation elections.
However, she was involved in a murder case in her house and the police have booked a case against her by then.
It was when she was avoiding arrest, Chandrababu Naidu as chief minister, visited the city in 1998.
Later, when Chandrababu Naidu took off from the Indira Gandhi Municipal Corporation Stadium, the police arrested Rathna Kumari.
She finally gave up her political career and kept herself away from active politics. In 2004, when her son Radha Krishna entered politics, late Y S Rajasekhar Reddy gave him a chance to contest and that was his first and last victory in politics till now.