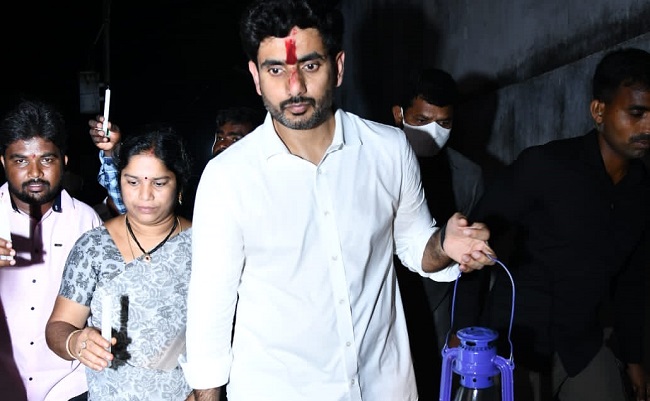 It is known that YS Jagan Mohan Reddy made his campaign with the line 'okka chance' during the 2019 general elections. Voters gave him the chance with a huge majority.
Now Lokesh Naidu is also following Jagan's route. But the only difference is that Lokesh is not asking for the chance to make him the CM. He is confining himself to Mangalagiri and asking the people to give him a chance to become an MLA.
There is a black mark on Lokesh that he didn't even win as an MLA but became a Minister from the backdoors when his father was the CM. To erase that mark, Chandrababu is struggling hard to make his son an MLA in 2024.
For this, the Party has come up with an innovative solution. When there is any wedding event going on in the constituency, a cloth cover with Lokesh's picture on it will be carried by the Party workers to give it to the newly wed couples. The photographs of the same are being used to convey that these many families are behind TDP.
Apart from this, the wooden carts with Lokesh's pictures are being given to the street vendors. Thus, the party is struggling hard to project Lokesh in the best way possible, giving him more visibility everywhere.
The cheapest and best plans are being explored like this by the party to uplift the presence of Lokesh Naidu within his constituency. TDP is not even dreaming to win in the 2024 election, but desperately wishing Lokesh to become an MLA.
But the bottom line is the majority of people in Mangalagiri are laughing at these desperate acts of Lokesh Naidu.