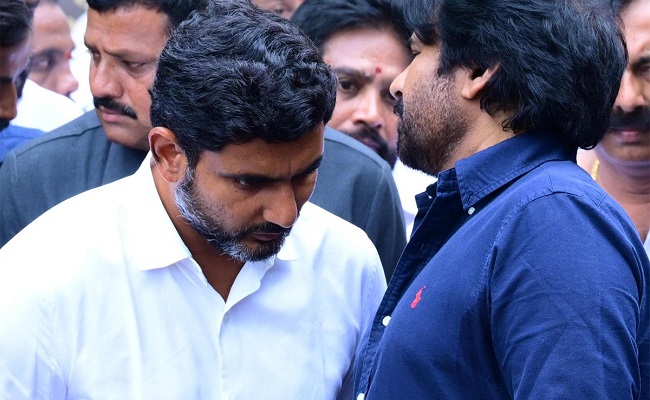 Any father would love to see his son achieve great success, and if possible, surpass his own accomplishments.
Like any other father, Chandrababu Naidu has worked tirelessly to ensure his son becomes a successful and capable leader. However, reality often doesn't align with our dreams.
Until recently, Lokesh projected himself as the second-in-command within the party.
With CBN's presence, he was seen as the Prince of TDP. However, just a few days into CBN's imprisonment, it became evident that Lokesh held little importance within the party.
During Pawan Kalyan's press address today, Lokesh stood beside him with a somber expression.
When Pawan declared that Janasena would join TDP to take on YCP, everyone, including Balakrishna clapped but Lokesh remained silent. He seemed hesitant to clap, as it would have been an insult to his own standing. In CBN's absence from the party's leadership, it seems Pawan has taken the reins.
Sources say that off the record Lokesh used to speak unfavorably about Pawan Kalyan until a few days before CBN's arrest with the people around him. Lokesh never favored the idea of an alliance with Pawan and believed that TDP winning on its own would command more respect.
While Lokesh may or may not currently have the potential to make this happen, his thought process is not entirely without merit.
In a way, this situation provides Lokesh with an opportunity to prove himself as an effective leader in his father's absence. Until now, he might have lived in the shadow of his father, akin to Siddharth's character in the film "Bommarillu." However, now he has a chance to demonstrate his leadership but Pawan entered the scene without giving him the chance.
Pawan Kalyan's alliance announcement and the applause from Balakrishna and others indicate that Lokesh may not be fit to lead the party. Even the fact that his own father-in-law applauded Pawan's support suggests a significant setback for Lokesh.
The fact that TDP supporters see Pawan as a rescue boat highlights a troubling lack of leadership within the TDP.