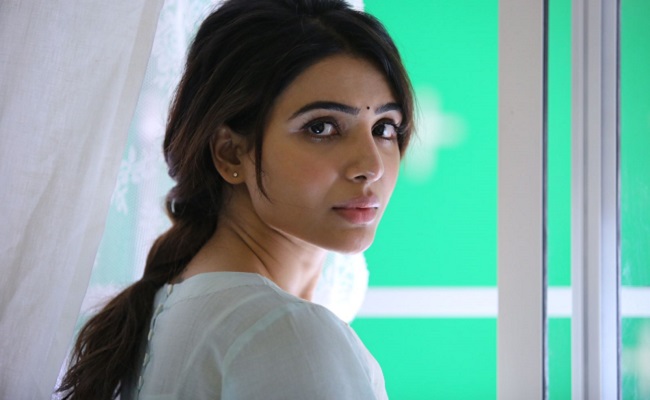 Movie: Yashoda
Rating: 2.5/5
Banner: Sridevi Movies
Cast: Samantha, Varalaxmi Sarathkumar, Unni Mukundan, Rao Ramesh, Murali Sharma, Sampath Raj, Shatru, Madhurima, Kalpika Ganesh, Divya Sripada, Priyanka Sharma and others
Music: Mani Sharma
Cinematography: M Sukumar
Editor: Marthand K Venkatesh
Art: Ashok
Fights: Venkat, Yannick Ben
Producer: Sivalenka Krishna Prasad
Written and Directed by: Hari - Harish
Release Date: Nov 11, 2022
Samantha's item song in "Pushpa" went viral last year. A year later, she released the thriller "Yashoda," in which she played the lead. "Yashoda" has sparked interest due to her current health situation as well as the stunning trailer.
Let us examine its highlights and low points.
Story:
Yashoda (Samantha) agrees to be a surrogate mother because she desperately needs money. She signs a contract with a corporate hospital and is taken to a hidden location where many surrogate mothers are observed prior to their deliveries.
Yashoda is treated at this centre by a handsome doctor named Gowtham (Unni) and is overseen by beauty pageant contestant Madhu (Varalaxmi Sarath Kumar). Yashoda soon realises that something sinister is going on. She tries to discover the secrets.
A group of police officers, on the other hand, is investigating the murder of a model. What is the connection between these two threads? Is Yashoda about to reveal a secret?
Artistes' Performances:
Samantha bears the weight of the story on her shoulders. She is convincing in both facets of her character. Samantha has also convincingly performed action stunts. She has made every effort to enthral as the story revolves around her.
Varalaxmi Sarath Kumar is an excellent choice for the role of a "beautiful devil." Unni Mukundan is ideal as a doctor with a hidden agenda.
Murali Sharma, Rao Ramesh, Kalpika, Divya Sripada, Sampath Raj, and Shatru all have done their roles justifiably.
Technical Excellence:
The plot revolves primarily around a surrogacy centre. The sets that have been created are lavish. The cinematography is satisfactory. The editing should have been more precise. Action stunts are entertaining.
Music is fuctional. Dialogues are effective.
Highlights:
Pre-interval scenes
Samantha's performance
Twist in the tale
Drawback:
The surrogacy center scenes
The uneven second half
Climax portion
Analysis
Hari and Harish, the Tamil directors, have written a story with a different plot point. Many films have dealt with the theme of medical mafias and evil doctors. Surrogacy-themed films have also emerged. "Yashoda" combines all of these elements and tells a very different story within the framework.
"Yashoda" begins differently because it combines two unrelated stories - a murder investigation and a surrogacy centre scam. However, the directors gradually build up drama and intrigue before the intermission. The pre-interval scenes are the thriller's main draw. They are not only well-written, but also thrillingly shot.
But momentum begins to wane after that point. It also becomes predictable after a certain point. The story's twist, while impressive, is also formulaic. Such a twist was seen in an iconic blockbuster 15 years ago, and it has since appeared in numerous films.
And flashback story involves Unni Mukundan and Varalaxmi Sarath Kumar. This story does not completely convince us. It appears to be superficial. Unni Mukundan's and Varalxaxmi's character arcs are underdeveloped.
While the plot and overall concept are intriguing, key scenes are executed half-heartedly. The Murali Sharma/Sampath Raj incident is far too predictable.
"Yashoda" works in parts. Samantha's performance and presence, as well as the film's basic concept and certain episodes, are its strong points. Despite some predictability, it makes an okay watch.
Bottom line: Works in Parts