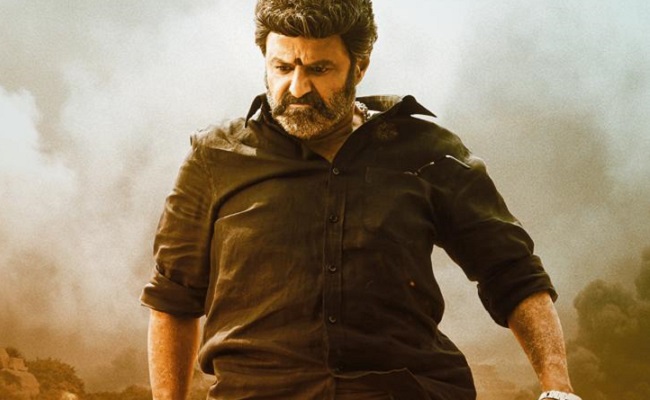 Movie: Veera Simha Reddy
Rating: 2.25/5
Banner: Mythri Movie Makers
Cast: Nandamuri Balakrishna, Shruti Haasan, Duniya Vijay, Honey Rose, Varalaxmi Sarath Kumar, and others
Dialogues: Sai Madhav Burra
Music: Thaman S
Cinematographer: Rishi Punjabi
Editing: Navin Nooli
Production Designer: A.S. Prakash
Fights: Ram-Laxman, Venkat
Producers: Naveen Yerneni and Ravi Shankar Yalamanchili
Story, Screenplay & Direction: Gopichand Malineni
Release Date: Jan 12, 2023
After the stunning success of "Akhanda" and the popularity of talk show "Unstoppable" brought new craze to Balakrishna's movies. And teaming up with director Gopichand Malineni, who just delivered the blockbuster "Krack", raised high expectations. "Veera Simha Reddy" is also the first biggie to hit the theaters in 2023. Amidst high expectations, the film is here.
Let's find out its merits and demerits.
Story:
For their son's upcoming wedding in Turkey, Meenakshi (Honey Rose) has invited Veera Simha Reddy (Nandamuri Balakrishna), who currently resides in Rayalaseema, India. Their son Jai (Balakrishna) is in love with Eesha (Shruti Haasan). Why does Veera Simha Reddy reside in India and Meenakshi and her son in Turkey?
Meenakshi begins to explain the circumstances that brought them to Turkey many years ago.
An amiable faction leader named Veera Simha Reddy wields the most influence in Kurnool. His step-sister Bhanumathi (Varalakshmi Sarath Kumar) is his one and only vulnerable point.
Bhanumathi misunderstands her brother's actions in a crucial situation and comes to the conclusion that he has betrayed her. Furious at her brother, she marries Veera Simha Reddy's rival Pratap Reddy (Duniya Vijay) and sets out to exact her revenge. What caused the sibling rift, and what will Jai do after hearing his dad's backstory?
Artistes' Performances:
Nandamuri Balakrishna has portrayed two distinct characters. Veera Simha Reddy's portrayal brings to mind his previous film roles. Balakrishna's dialogue delivery is, as always, fierce. In the first half, his costume is a rip-off of Sivanna's "Mufti." That said, he looks terrific in it.
After Balakrishna, Varalakshmi Sarath Kumar plays a pivotal role in the film. During the interval bang, she does an admirable job. Her sentiment scenes, however, fall flat.
Shruti Haasan gets a bad treatment. Her role and her performance are both embarrassingly bad.
Honey Rose is given a slightly better role than Shruti Haasan. In his first Telugu film, Duniya Vijay plays a one-dimensional bad guy.
Technical Excellence:
The music of Thaman is unremarkable. The songs may have gone viral on social media, but they don't work at all in the movie. But his background score is good, so that's a plus. This film's cinematography is stunning. The production values are very high because the producers have invested a lot of money.
Sai Madhav's dialogues follow a predictable pattern. Words like "Kodaka" and "Naa Kodaka" can be heard at many places. The length of the film is too long. It features 8 lengthy fight sequences
Highlights:
The first half
Some mass moments
Drawback:
Cliched narration
Second half
Sister-sentiment thread
Excessive action episodes
Cringe worthy heroine characterisation
Analysis
Despite being a formulaic actioner, the spiritual undertones of "Akhanda" helped it succeed at the box office. Balayya's performance as Akhanda resonated with a wide audience thanks in large part to the film's "Bhakti" angle. The film's success was apparently viewed in a different light by director Gopichand Malineni. His latest film, "Veera Simha Reddy," starring Balakrishna, follows the template of heavy dose of action sequences.
The number of fights is very high. There are indeed eight large-scale action scenes.
Though the film's first fifteen minutes are dull due to the introduction of Jai and Eesha and their budding romance, things pick up once "Veera Simha Reddy" arrives.
Balakrishna, in typical fashion, roars through the first half, delivering punch lines and beating up bad guys. Some dialogues are designed to gain political traction. Balakrishna takes aim at the current government in Andhra Pradesh in a scene where the hero has an argument with the minister of home affairs.
The first half of the film, however, is structured similarly to other commercially successful films, complete with songs and fight scenes. The twist involving Balakrisha and Varalakshmi at the midpoint bang is also interesting. The twist makes us wait for the second part. However, the second half completely loses its grip. A sister-brother drama ensues, and more fights follow.
Everything involving Balakrishna and Varalaxmi Sarath Kumar seems to go on forever. On top of that, there are far too many loopholes. It's hilarious to see Varalaxmi misunderstand his brother and swear vengeance without bothering to get to the bottom of the situation. Another cringe-worthy moment is when she married her brother's rival. It appears to be a story convenience rather than organic. And Duniya Vijay's villainy lacks effectiveness due to the poor writing. So, the second half turns out to be a combination of action-stunts fest and poor sentiment scenes.
The politically charged lines of dialogue may win over supporters of the Telugu Desam party and Balayya's fans, but they come off sounding artificial and out of place to everyone else. And for how much longer will Balakrishna brag about his dad and his 'charitra' (history) without regard to the story's arc?
How did the censors let scenes like Balakrishna calling the bad guy "Munda" through? Burra Sai Madhav's banal prose filled with words like "Kodaka" should have been censored.
The heroines' portrayals are just as bad as the pointless fighting. After the first 15 minutes, Shruti Haasan only re-appears when there are musical interludes. Honey Rose is revealed to be an elderly mother, but she is then given the opportunity to dance to the "Maa Baava Manobhavalu '' song and seduce Balayya.
Overall, "Veera Simha Reddy" is another mindless masala drama with a lot of fights. While the first half of the film is entertaining, the second half is disastrous. The film is only for die-hard fans of Balayya, not for the regular audiences.
Bottom line: Strictly For Balayya Fans