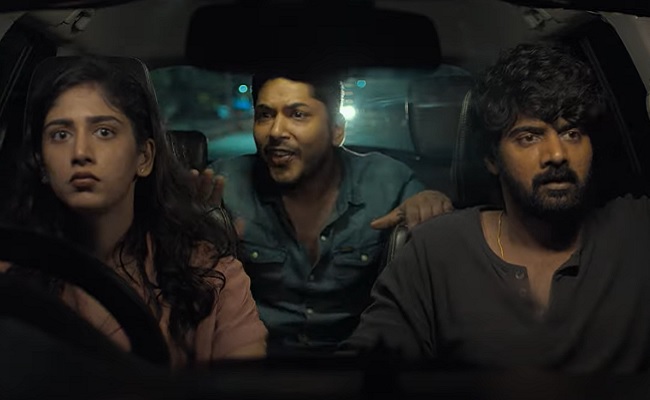 OTT Movie: Super Over
Cast: Naveen Chandra, Chandini Chowdhary, Ajay, Rakendu Mouli, Harsha Chemudu, Praveen, and others
Music: Sunny MR
Cinematography: Divakar Mani
Producer: Sudheer Varma
Story-direction: Praveen Varma
Streaming on: Aha Video
Release Date: Jan 22, 2021
"Super Over" is a crime thriller revolving around cricket betting. In parts of Andhra Pradesh and Hyderabad, cricket betting is a big business.
The film provides a glimpse of this sophisticated illegal activity, how the bookies operate, and how the money gets transacted.
The basic plot, which is paper-thin, centers around three friends (played Naveen Chandra, Rakendu Mouli, and Chandini Chowdhary) hitting the jackpot, despite being novices in this game and the money transaction leading to a big tussle.
Director Praveen Varma has narrated this story in the format of Hollywood thrillers. The film begins on December 8, Sunday with a chase sequence in Madhapur in Hyderabad. Then moves back to reveal the incidents that took place a few days ago or months ago.
The back and forth technique that was used in umpteen number movies is employed here to keep the suspense element.
The film doesn't provide any scope for actors to perform but behave as they are. Naveen Chandra, Chandini, and Rakendu all have played the regular youngster roles with ease. Ajay as a police officer is impressive. Praveen as a betting guy and Harsha Chemudu in the role of Betting Raju shine.
Coming to the technical output, cinematography stands out. Divakar Mani captures the Madhapur, Financial District, and Kondapur locations beautifully. The aerial shots of the chance sequences in the night are worth appreciating. The background score is pulsating.
Like most web movies, "Super Over" also has a frank dialogue laced with cuss words like 'gaadida m***a', 'm***a gu****poindi', 'de*** bettaru'.
While the narration works to some extent, it doesn't provide any thrills. Plus, there is no big reveal in this story. Furthermore, it ends hurriedly, repeating the sequences. After a point, we can feel that the writer-director is left with few options to tell this flimsy point.
One can say that these kinds of crime thrillers resemble one another, but this one turns out to be a middling effort. The chase sequences and night scenes have come out well but don't sustain the interest till the end.
Overall, 'Super Over' is neither super nor bad. You may watch it to kill time if you have an Aha subscription.
Bottom line: A Middling Effort!
Click Here for Latest Direct-to-OTT Releases (List Updates Daily)