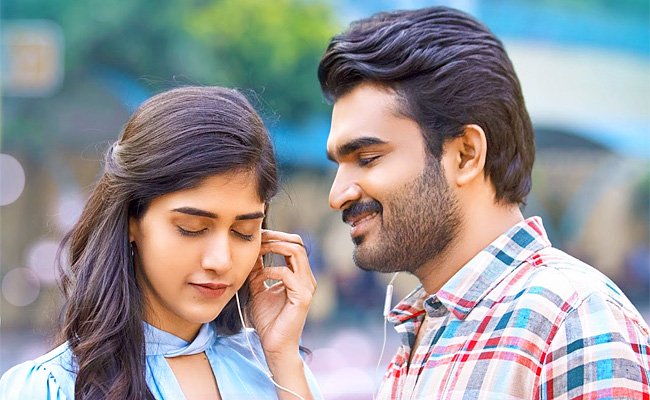 Movie: Sammathame
Rating: 2.5/5
Banner: UG Productions
Cast: Kiran Abbavaram, Chandini Chowdary, Goparaju Ramana, Saptagiri and others
Music: Shekar Chandra
Cinematography: Sateesh Reddy Masam
Editor: Viplav Nyshadam
Art: Sudheer Macharla
Producer: Kankanala Praveena
Story, Screenplay, Dialogues, Direction: Gopinath Reddy
Release Date: June 24, 2022
"SR Kalyana Mandapam" established Kiran Abbavaram as a promising young actor. He has been playing small-town characters. "Sammathame" is his first film that is set in a big city. The trailer looked quite promising.
Let's see whether Kiran leaves an impression with this latest rom-com.
Story:
Krishna (Kiran Abbavaram), who works in a software company in Hyderabad, rejects Saanvi (Chandini) at pelli choopulu after knowing her first love experience in college. He doesn't like the idea of his wife having a romantic past.
Saanvi forgets him, but he doesn't. After many days, he approaches her and apologies for his rude behavior. They slowly begin dating.
Saanvi is a typical city-bred girl, whose attire, lifestyle, and thinking are modern. Krishna, who has the rinky-dink mindset, proposes to her and hopes to change her according to his 'taste'.
Is it acceptable to Saanvi? Will she really fall for such a guy?
Artistes' Performances:
Kiran Abbavaram displayed so much ease and natural style in his acting in his previous films. Continuing the same, he plays the role of a small-town guy effortlessly.
Chandini Chowdary does a decent job. There is tiredness on her face, but she does manage it neatly. Goparaju Ramana shines again as the hero's father.
Saptagiri's track is lousy.
Technical Excellence:
Sekhar Chandra's music is fine and appeals to the class. BGM is also ok though not outstanding.
Sateesh Reddy's cinematography is neat. The production design and overall look of the film are just okay.
Highlights:
Kiran Abbavaram
Certain scenes here and there
The final moments
Drawback:
Thin plot
Ineffective direction
Boring scenes
Complete stress on hero's show
Analysis
"Sammathame" is a romantic drama that hinges on a wafer-thin plot. The crux of the film is that love should be unconditional, no man has the right to expect his wife to change her thinking as per his wishes or whims. Undoubtedly, the message is appreciable. But the narrative isn't.
Until the last part, Kiran Abbavaram acts like an uncouth, denounces people who go to pubs, shames women who wear short dresses and slaps men and women instead of talking.
Kiran imagines in his dreams Chandini calling him a psycho. He indeed behaves in such a manner. Despite his chauvinistic and uncivilized attitude, heroine Chandini starts loving him. There is no proper reason to love him in the first place.
The romantic sequences are created for the purpose of humor and to show Kiran Abbavaram as a 'moralistic' guy. The writer-director has succeeded in some places and the entertainment is generated. But, beyond bits and pieces, it is a boring affair. First and foremost, no cultured people would connect with the hero's characterization.
The director's intention is to show that no man should force any woman for anything. So, he might have shown the hero's character as rude and uncivilized, but still, many issues lie with this characterization. Plus, young actors like Kiran Abbavaram should avoid making every film a one-man's show. The film doesn't have solid side characters. The entire story revolves around him. As the plot is pencil-thin, we feel bored when scenes repeat with the hero doing the same act.
Even the climax part feels rushed. On a whole the films of this type should run on subtle humor throughout. Lack of lighter moments in the second half put down the film on a whole.
"Sammathame" is another disappointing fare due to the weak script and execution. Despite the good final message, the romantic drama and the humor in second half doesn't engage us at all.
Bottom line: Not much acceptable