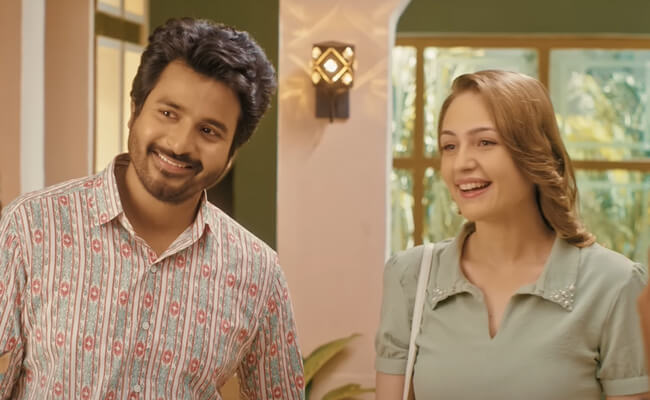 Movie: Prince
Rating: 2.75/5
Banner: Sree Venkateswara Cinemas LLP
Cast: Sivakarthikeyan, Maria Riaboshapka, Sathyaraj, and others
Story: Anudeep KV & Mohan Sato
Music: Thaman S
Cinematography: Manoj Paramahamsa
Editor: Praveen KL
Producers: Suniel Narang, D.SureshBabu, Puskur Ram Mohan Rao
Release Date: October 21, 2022
Ever since "Prince" was announced, the film generated hype as it marks the combination of Tamil rising star Sivakarthikeyan and "JathiRatnalu" fame Anudeep. The bilingual hit the theaters today in Telugu and Tamil simultaneously.
Let's find out whether Anudeep generates laughs again.
Story:
Anand (Sivakarthikeyan) works as a teacher in school. His father Vishwanatham (Sathyaraj, a retired employee, wants his children to marry outside their caste or religion.
Vishwanatham is overjoyed when he finds his son fell in love with a foreigner Jessica (Maria), an English teacher in his son's school.
The only problem is that Vishwanatham hates British people and Jessica turns out to be a British woman.
How will Anand resolve this issue and get married to Jessica?
Artistes' Performances:
Sivakarthikeyan became a huge star in the Tamil film industry with a series of hits like "Doctor" and "Don" and he is good at comedy. The role of Anand is in his zone. He pulls it off so easily.
Ukrainian actress Maria Riaboshapka suits perfectly. Sathyaraj is a huge asset to this film. He takes the responsibility of the main comedian. The film doesn't have separate comedians. The comedy parts are taken care of by Sivakarthikeyan and Sathyaraj.
Premgi Amaren as a land grabber is neat. The film has only Tamil actors.
Technical Excellence:
Thaman has given a peppy soundtrack. Two songs stand out – "Jessica Chilaka" and "'Bimbilikki Pilapi". The visuals are bright and colorful.
The film has a short running time but it gives a feel of a lengthy film due to its flimsy plotline.
Highlights:
Anudeep's mark dialogues
The first half
The climax comedy
Drawback:
No emotional connect
Repetitive jokes
Analysis
Sathyaraj plays a character who boasts of himself as a very knowledgeable person. He tells his son's girlfriend that he has mastery over the Telugu language. Around the same time, his son's phone rings and the ring tone is "Lusku Tapa Lasku Tapa" song. She asks what that means. The funniness of this situation cannot be described in words. Only one would get it while watching. Then there is a five-minute comedy scene about "Bottle gourd" aka sorakaya. After this another worth mentioning scene is of the police station with Anand Raj and the friends of Shiva Karthikeyan. These are three sequences in "Prince" which make the audience laugh.
Anudeep has a peculiar style of comedy writing. His situations look silly but they work well if the actors can pull them off. Sivakarthikeyan and Sathyaraj have done their best in many places.
The comedy written here is for an educated A center audience. This cannot be relished by the C-center audience who doesn't know about bottle gourd and Cambridge. Such viewers may miss the taste in funny single liners.
Moreover, nativity is totally missing in the film with Tamil actors all over. There should have been a mix of Telugu audience like in pan India style films. Had that been done, the range of the film would have gone to the next level. Barring that limitation, everything goes well.
Anudeep ends his films well. In "Prince", too, it ended on a funny note. All said, "Prince" is neither a laughing riot nor a boring watch. It lands somewhere in between. Like Anudeep's previous movie, it is silly but offers some decent comedy portions.
Bottom line: Works in parts