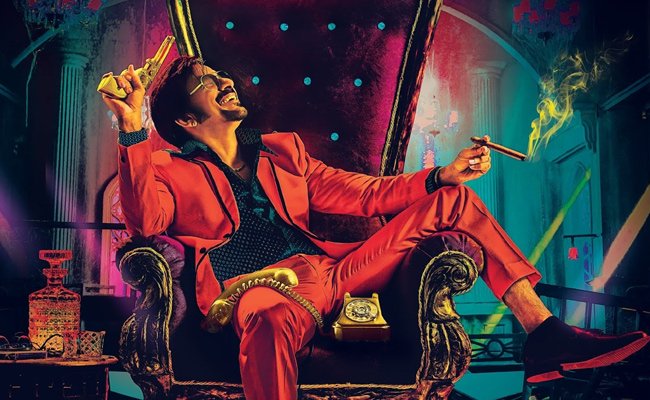 Movie: Disco Raja
Rating: 2/5
Banner: SRT Entertainments
Cast: Ravi Teja, Paayal Rajput, Nabha Natesh, Tanya Hope, Vennela Kishore, and others
Dialogues: Abburi Ravi
Music: S Thaman
Cinematography: Karthik Gattamaneni
Editing: Sravan Katikaneni
Producers: Rajani Talluri
Story, screenplay, and direction: Vi Anand
Release date: Jan 24, 2020
"Disco Raja", starring Ravi Teja in the titular role, has evoked interest with its different trailers. Promoted as a sci-fi suspense thriller, the film is here.
Let's find out its merits and demerits.
Story:
In Ladakh, a frozen dead body is found and it was brought to Relive, a science lab that is experimenting in bringing the dead alive. Their experiment succeeds and this body gets life again.
He is Disco Raja (Ravi Teja), a gangster in Madras who is believed to have been killed in an incident 35 years ago.
Who killed him and what is his link with his doppelganger Vasu (Ravi Teja)?
Artistes' Performances:
Ravi Teja has crossed 50 but he is still trying hard to present himself as a young star on the screen and choosing such roles but they are not giving desired results. Here, he has played two roles that are in their 30's. Despite appearing in various getups and hyper act, no role makes an impact.
Vennela Kishore as a scientist generates laughs here and there. Bobby Simha is okay but his character lacks proper arc.
The surprising act comes from comedian Sunil. He has nailed it.
Paayal Rajput has got a better role among three heroines but all of them have limited screen space.
Technical Excellence:
The film has excellent cinematography and rich production design. The sequences related to Ladakh which were shot in a foreign country are eye-catching.
Cinematographer Karthik, music composer Thaman and art director have delivered their best.
Highlights:
Beginning portions
Technical values
Drawback:
Playing with old scenes
Boring final sequences
Twist for the sake of a twist
Analysis
A science lab's experimentation of bringing the dead alive and the hero getting new life is an interesting concept.
"Disco Raja" opens with a visually alluring action sequence in a snow-capped area much like a Hollywood movie and moves to science lab experiments. This entire 20-minute episode is gripping and adds a novelty factor. However, the novelty ends there.
As soon as Ravi Teja gets a new life, we see the same routine comedy that was seen in umpteen number of commercial potboilers. Moreover, the film shifts its tone from science fiction to a gangster drama.
The later proceedings are all about Ravi Teja's flashback as a gangster Disco Raja. Here we get to see Ravi Teja appearing in 80's costumes and singing old Hindi songs to impress Paayal Rajput. Neither Paayal gets impressed by it, nor the audiences with his over-the-top act. So clichéd, so regular!
The characters of Nabha Natesh (a bank employee) and VK Naresh are a classic example of the director's routine ideas.
After many yawning episodes, the director pulls a twist that we have already seen such a twist many of recent gangster flicks. It doesn't leave much impact either.
Director Vi Anand comes up with interesting ideas but he fails to tell them in a gripping manner. With "Disco Raja", both the director and actor Ravi Teja disappoint us.
Bottom-line: Half Baked