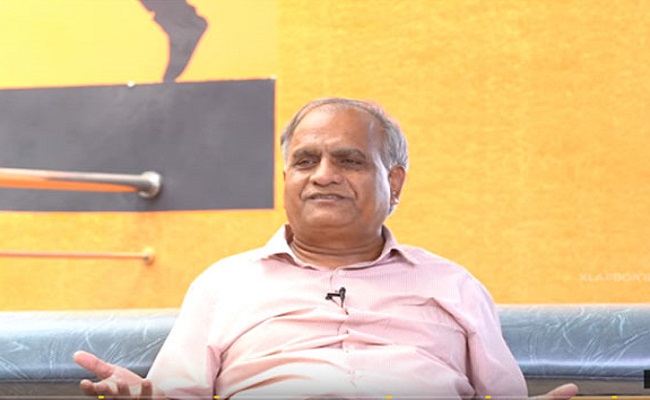 Noted political analyst Telakapalli Ravi shared his thoughts on Raghurama Krishnamraju shortly known as RRR in a short video.
This was about his previous video on RRR's 'Odarpu' issue. From his end, Raghurama also responded and Ravi mentioned he didn't really pay attention to those responses.
However, he did get to see the response finally and shared his observations.
Ravi clarified that when he spoke about someone's death and the 'Odarpu' patent he meant it as a common statement and it was not meant to mock any single person in particular. But since Raghurama reacted with some strong statements, Ravi has offered to give his clarifications on public forum.
Ravi maintained that he doesn't make a statement without due diligence. Raghurama threw 3 challenges including Sahiti Sravanthi.
Ravi mentioned that Sahithi Sravanthi came up with two special editions which got very good recognition and also spoke about the song regarding the Telugu language.
He also reminded Raghurama that when farmers were called 'paid artistes' by YCP leaders, Ravi took initiative and condemned that statement.
He also mentioned how he condemned leaders like Botsa, Dharmana Krishnadas when they made incorrect statements.
Ravi concluded that his only priority is Nation, people and society and not political parties and leaders. Wonder what RRR has to say to this now.
Click Here for Latest Direct-to-OTT Releases (List Updates Daily)