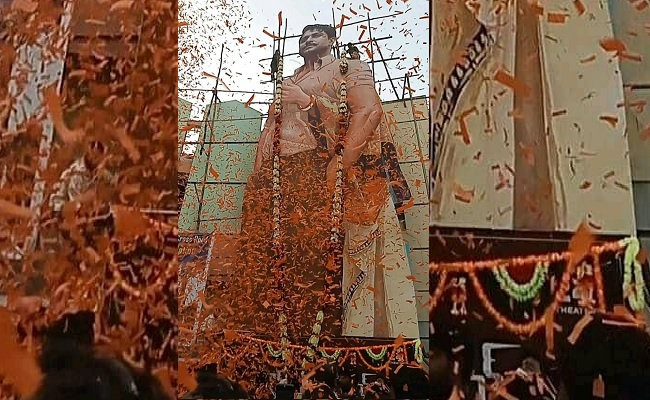 Nani's last two films were released on OTT platforms and Shyam Singha Roy is the first film to hit the theatres, after two years.
All the wait of fans and cine goers will end in another three days, as the movie will be releasing on December 24th.
Nani and team are promoting the movie aggressively and expectations are huge on this Rahul Sankrityan directorial.
Expressing their delight, fans erected a massive 63 feet cutout of Nani at Devi Theatre in RTC X Roads.
They have burst firecrackers, besides showering flowers on the huge cutout of Nani.
Every promotional content of the movie only hiked prospects and buzz is positive in film and trade circles.
Sai Pallavi and Krithi Shetty who scored hits with their last respective films are the heroines opposite Nani.
The most expensive film of Nani will be the biggest release for the actor.