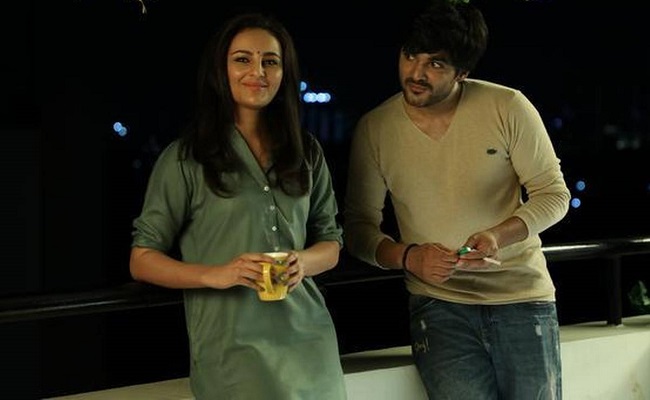 Movie: Maa Vintha Gaadha Vinuma
Rating: 2/5
Banner: Aryath & Melodrama Studios
Cast: Siddhu, Seerat Kapoor, Tanikella Bharani, Pragathi, Manchu Lakshmi, Shishir Sharma, and others
Music: Sri Charan Pakala, Rohit - Joy
Cinematography: Sai Prakash Ummadisingu
Editor: Vamsi Atluri
Writer and Creative Producer: Siddhu Jonnalagadda
Directed by: Aditya Mandala
Release date: November 13, 2020
Streaming on: Aha
After "Krishna and His Leela", Siddhu Jonnalagadda has done another romantic drama for OTT space. The latest film is "Maa Vintha Gaadha Vinuma", for which he also wrote the script.
Let's see its merits and demerits.
Story:
Siddhu (Siddhu Jonnalagadda) and Vineetha (Seerat Kapoor) are engineering students in a Hyderabad college.
Siddhu gets attracted to Vineetha and does all sorts of ways to impress her for three years. In the final year, she falls for him.
When Vineetha's brother's wedding gets fixed, they all head to Goa to do a pre-wedding shoot.
In a drunken stupor, Siddhu and Vineetha get married on the beach, and their strange wedding ceremony gets uploaded to social media.
The video goes viral. How this incident affects their lives is the rest of the drama.
Artistes' Performances:
Siddhu Jonnalagadda has repeated the same lover boy act that he has done in his recent movie "Krishna and His Leela". Nothing much to talk about beyond this. Strangely, he talks in Telangana slang in a couple of scenes and pure Andhra dialect in other sequences.
Seerat Kapoor is just okay. Tanikella Bharani gets some humorous lines. So is Fish Venkat. Manchu Lakshmi does a cameo appearance.
Technical Excellence:
Sreecharan Pakala and Rohit Joy's songs are forgettable. The cinematography and other technical standards are just functional.
Highlights:
Background Score
Drawback:
Confused narration
Boring sequences
Never ending drama
Over usage of cuss words
Poor direction
Analysis
Siddhu Jonnalagadda is not only a lead actor in this romantic comedy, but he also has written the story and edited the film. In a way, "Maa Vintha Gaadha Vinuma" is his film. The film is directed by debutant Aditya Mandala.
The recent romantic comedies, especially that came out on OTT platforms, have proved that the directors cannot tell a story in a straight forward way. They need to complicate it either using techniques like back-and-forth, or flashbacks within flashbacks or narrating their stories to strangers. Because they have paper-thin "plots". "Maa Vintha Gaadha Vinuma" is no different.
The basic point of the film is a young couple facing problems due to a viral video of theirs. But they don't get it to this point. Instead, the film opens with the hero narrating to a police officer when he gets arrested in an eve-teasing case.
And what do you get to see in this story narration? The same regular stuff – hero and heroine studying in engineering college, comedy scenes about ragging, a hero trying hard to propose to the heroine, drinking and smoking, kiss scenes, and, more importantly, "boothulu" (cuss words).
For most of the OTT content, modernism means using street language (mostly cuss words). Both Siddhu Jonnalagadda and Fish Venkat have used expletives liberally. They are "La*da", "Gnd", "Mud*i, "la*koduka", 'Erri**a", etc. Since there is no censorship for OTT content, the makers are using such languages just for the "cool factor".
The students in the college keep talking about getting a job at Google, but they don't even know how many subjects are there in their courses. Such is the standard of writing.
There's no proper flow to the writing.
Moreover, the biggest problem with the film is that it tries hard to be "cool" and modern but doesn't rise above the clichéd. Why do we get to hear the Missamma song, "Raavoyi Chandama Maa Vintha Gaadha Vinuma" and a Ghazal for no apparent reason? Why should the hero need to tell his "love story" to a police officer, and why would he listen to it in detail, keeping all his work aside? So much clumsy writing.
A couple of scenes raise laughs, but that's all about it. "Maa Vintha Gaadha Vinuma" is another attempt from the OTT companies to dish out some random content in the name of "modern rom-com".
To borrow a line from Fish Venkat in the film, "Sorry Bro. Kastam Idi".
Bottom-line: Clumsy Gaadha!