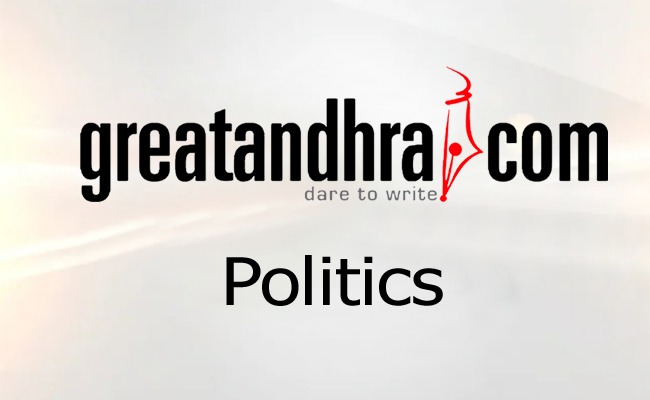 "I am not interested in any party or in the government, let me be judged for my performance." Nara Lokesh's summary of his role in a recent interview with a Telangana Daily is just as ambiguous as his dad's position on just about any issue; The bifurcation of AP, should I support the split, should I not, what is better for my political future? Were the constant priorities Naidu juggled? If that is indeed the case, what is Lokesh holding fort at a 'party' meet up and why is he granting interviews like party favors?
What is apparent to many is how Lokesh and Naidu colluded with the Congress to take a pair of scissors to AP and cut it in two. Egged on ably by their constant cohorts at Eenadu and Andhra Jyoti.
Why is Lokesh expounding on anything at all? What causes him to assume a leadership role in a party that is spilling over with senior politicians? Daddy's still alive isn't he? Oh, and his donation begotten degree (with cleverly couched funds supplied by daddy's friends in high places) from Stanford is flaunted at every chance he gets. So, it surely implies that Modi, without such a degree to boast, is incapable of running the country!
This piece is especially directed to the attention of Eenadu and Andhra Jyoti. You are probably not aware that Nara Lokesh is not an elected official, but of course you find this all legit and acceptable that the 'First Son' gets to call the shots, even as he disavows any role in the party or administration. So what is he? The First Volunteer? If so, how come other volunteers don't enjoy the same status?
I'd like to bring to the notice of these venom spewing papers that they routinely maligned members of other political parties and their offspring, even when those offspring had no association whatever with their parent's running of the state.
Does Nara Lokesh's taking the reins of the governing of the state of AP that his father's party won with a less than 2% majority warrant him the status of 'heir apparent'? So now, is it fair game for Lokesh to start carving out pieces of the state's coffers to hand out to loyalists?
He is going to amass '6.6 lakh party soldiers' to work as the party's eyes and ears. What is he using to pay for that? The party must surely have deep pockets. Let's quote the United States' way of doing things but let's not explore our campaign finances, kinda thing. He talks of using IVRS (Interactive Voice Response System) technology to keep in touch with the sentiments of the people so as to orchestrate all state development based on what the public's opinion is at a given time. Holy mayhem if people should have differing opinions!
By the way, how come the IVRS technology did not aid these people in understanding the strong wish of the people of AP to stay united? Or did the system lie to them then? How is it that the system is right now? Why should we trust him or his system now?
Despite dozens of opportunities afforded him by a state roiled by calls for unification on one side and division on the other, Naidu sat transfixed by Hamlet's dilemma, 'to be or not to be?' He often entertained the idea of joining forces with the Congress party and supplied Sonia Gandhi's agenda with as much support as possible by never forcing the issue of bifurcation in AP's legislature. At the time, it seemed expedient to collude with the Congress, there was no Modi wave in sight then.
Also, it is widely known that Naidu expressed 'righteous indignation' at Modi's 'unlawful acts' in Gujarat and stated categorically that "Modi should go to jail". Of course, that was quickly shoved under the rug now that the two kissed and made up.. But it is known widely that Modi is not one to forget such slights easily. Naidu will end up always having to watch his back. Oh, and what if Modi decided to make a partner of YSRCP and ditch Naidu next time around? Goodness, Naidu may never really get a good night's sleep at this rate.
Just because his daddy won the election in AP with a razor thin 1.9% margin, he gets to pull the puppet strings of these innocent people who got suckered into voting for him on the strength of the mirage they were offered by father and son? Why should they be taking their orders from him? Does this shady interloper into politics deserve full page coverage by a leading Telangana Daily?
The public has a right to know as to what capacity Lokesh is taking on this role, what is this appointment? Why is he being given this level of influence in a party by bypassing senior people from within the party? Or, is it true that TDP followers are just happy to perform servile roles while the king and his heir apparent make off with the accolades?
It is a miracle that despite all this fancy technology, despite the many games they played, moles (think Dadi Veerabhadra Rao) they planted, divisions they sowed (think communal minded rifts), indulging in the most egregious forms of yellow journalism against their opponents, Nara Lokesh and his band of villains were only able to eke out a two percentage point win!!
Venkat Raju, United States of America (venkat4321@yahoo.com)
Disclaimer: The opinions expressed within this blog are the personal opinions of the author. GreatAndhra is not responsible for the accuracy, completeness, suitability, or validity of any information on this blog. All information is provided on an as-is basis. The information, facts or opinions appearing on the blog do not reflect the views of GreatAndhra and GreatAndhra does not assume any responsibility or liability for the same.
Click Here for Latest Direct-to-OTT Releases (List Updates Daily)