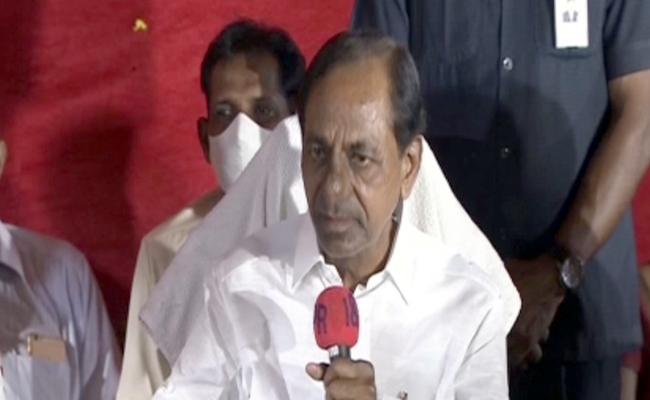 After crossing all hurdles, the magnificent temple of Lord Sri Lakshmi Narasimha Swamy on Yadadri in Telangana will be inaugurated on March 28, chief minister K Chandrasekhar Rao announced on Tuesday.
KCR, who went round the temple and presented the muhurtam fixed by Sri Tridandi Chinna Jeeyar Swamy, to the Lord in the afternoon, announced that the inauguration of the temple would be done with the conduct of 'Maha Kumbha Samprokshana.'
The inauguration will be preceded by eight to nine day of Ankurarpana including Mahasudarshana Homam, he said.
KCR spent around seven hours in the entire temple complex, inspected every nook and corner of the temple where final touches are being given and gave instructions to the authorities to make all the preparations for the inauguration of the temple in March.
He also announced the gold-plating of the Vimananam over the sanctum sanctorum of the temple, which required 125 kgs of gold.
He said on behalf of his family, he was donating 1.16 kgs of gold, while several other TRS leaders also offered to donate gold. Donations would be received from various sections of people to complete the gold plating process at the earliest.
During the time the renovation works were taken up at a cost of Rs 1,000 crore including Rs 750 crore towards land acquisition, beautification of surrounding areas and road widening works, devotees were only allowed into the Balalayam for darshan of the deity while the entire area covering the main temple was off limits for the devotees.
As part of the Yadadri tour, the CM went around the Giri Pradhakshina steps road, constructions taking place at the Temple tower (Gopuram) and gave suggestions and changes to the final works. The CM later inspected the works of Integrated Temple City construction
The CM said in the 250 acres sprawling Temple City, 50 acres would be greenery, 250 Cottages would be constructed in the rest 200 Acres.
In each Cottage, which would be constructed in 1000 Sq Yards, there would be four Suites.
The YTDA will construct these Cottages with the money given by the donors. The Donors can suggest a name to be given to the Cottages they have sponsored.
The CM instructed officials concerned to create all the facilities in the suites for the 1000 families who would stay in the cottages.
The CM instructed that the Cottages should be provided with underground drainage, uninterrupted water supply, power supply and all the facilities and comforts.
The CM urged everyone to cooperate to preserve and protect the sanctity of Yadadri Temple city and wanted strict implementation of ban on liquor, smoking.
The CM instructed the officials to allow only vegetarian food.