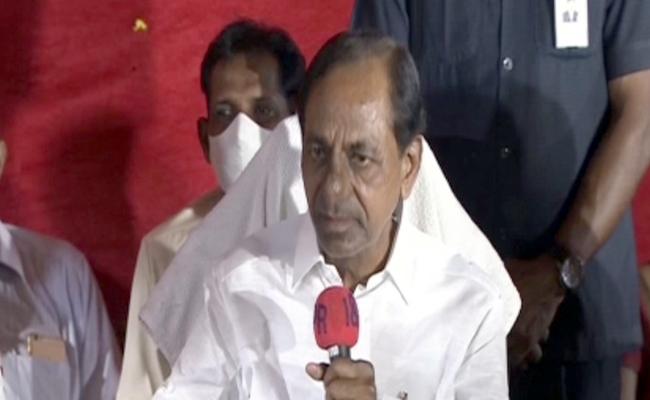 On Monday morning, several national media and upcountry media reporters in Hyderabad woke up to a call from the chief minister's office (CMO) of Telangana chief minister K Chandrasekhar Rao stating that he would be addressing a press conference in the evening and requesting them to attend the same.
It is very rare that the CMO media managers call up the national media reporters and ask them to attend KCR's press conference, as they would generally post routine messages in the CMO WhatsApp group about such press meets.
However, this time, the media managers requested the national media reporters specifically to attend the CM's press meet, as he would like to speak something important on national politics.
This led to the speculation that KCR might announce his entry into national politics, announce his initiatives to launch a third front and more importantly, on anointment of his son K T Rama Rao as the next chief minister.
So, by evening most of the national media reporters rushed to Pragati Bhavan and took their seats well in advance. They also alerted their national desks about the possibility of some big breaking news.
But as the scheduled time for KCR's press conference lapsed, the media representatives enquired the CMO people when it was likely to be started.
Soon, they were told the press meet was cancelled as the cabinet meeting chaired by KCR was expected to take more time than originally planned.
Enquiries revealed that the cabinet meeting was actually completed well on time, but KCR reportedly told his cabinet colleagues that he was not going to address any press conference. He made the ministers sit till 10 pm and even arranged dinner for them.
So, why did KCR decide against speaking to the media on national issues? Sources said the chief minister did not get any positive response for his third front proposal, when he spoke to leaders of some regional party leaders during the day.
Secondly, he also got an intelligence report from Uttar Pradesh and other states that are going to polls in February, which indicated that except in Punjab, the BJP is going to win in all the four state assembly elections.
So, there is every possibility that his third front plan will remain a damp squib after the five state elections. His plans to play a big role in national politics would also get dampened, if the BJP sweeps polls in these states.
"Had it been the local reporters, KCR would have tackled them with ease. Since a battery of national media reporters are attending the press meet, he would have to face embarrassing questions about the third front, his role in national politics, his national agenda etc. That is precisely why he avoided facing the national media at the last moment," a source said.
Since any strong comment against the BJP and Prime Minister Narendra Modi at this juncture would only backfire at this stage, the TRS chief decided that it would be better remain silent at this stage and wait for a right opportunity, sources added.