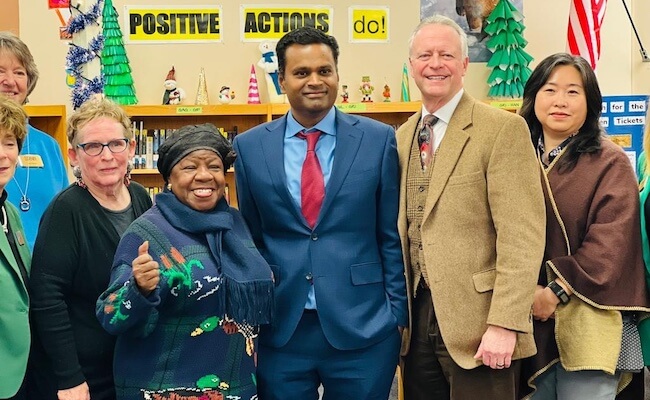 Mahesh Parusha founder of Parusha Foundation donated $25,000 to Maryland and Virginia Schools to buy 3D Printers for nine middle schools in Howard County and helped schools in Fairfax County with STEM Teacher Grants.
Mahesh Parusha is a native of Telangana Hyderabad. He pursued Masters degree in US university in the Fall of 2001.
He hails from a hard working middle class family with loads of dreams and passion. He came to USA with meagre finances, precisely one semester fees and 4 months of living expenses. With his relentless fight for survival, he managed a scholarship in Lamar University, Texas for his Masters program. He could manage to complete his education and made his career.
This aid for him instigated to pay it forward with his income to make sure he is able to help more students in his situation. He extended his experience, motivation and support to three students from India to accomplish their dream to pursue education in USA. With his support they overcame financial hardships which he had faced as new immigrant.
He is a man of gratitude and he was thankful to the United States for the opportunity he was offered and always wanted to give back to the community.
When his financial situation settled. He took a pledge to use his energy, and finances to pay it forward. He made a decision to dedicate himself to empower children education and become a support system. In the process he even avoided making a family or have children.
He started Parusha Foundation in 2019 and decided to dedicate himself and his earnings to support the foundation and not to let any other personal commitments, deviate him from this cause. He is heavily influenced by Putchalapalli Sundarayya in his childhood and influenced by Warren Buffet after learning about his pledge to donate his assets to charity. Mahesh is also influenced by Ramuism series in which Ram Gopal Varma had shared his opinions about education system.
Mahesh, with his service mindset, his experience and also inspired by many idealistic people had set a goal to establish a foundation that can help school kids in USA through STEM program and eventually also support Education System in India by bringing together and taking help of local community here in USA.
Requesting Indian, American communities to support this initiative by following the Parusha Foundation Facebook page: https://www.facebook.com/maheshpf
Below is the link for Mahesh Parusha interview with TV5 sharing his vision about Parusha Foundation: https://www.youtube.com/watch?v=cEjrqExc97s
Parusha Foundation website: www.parushafoundation.org
Content Produced by Indian Clicks, LLC