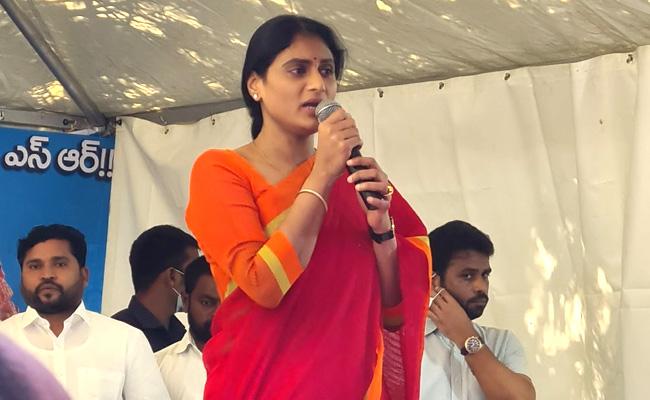 YSR Telangana party president and Andhra Pradesh chief minister Y S Jagan Mohan Reddy's sister Y S Sharmila is all set to resume her padayatra from January 28, exactly after a gap of two months.
It was on November 28 that Sharmila had to halt her padayatra at Narasampet in Warangal district, after her convoy and caravan was attacked by the supporters of Bharat Rashtra Samithi MLA Peddi Sudershan Reddy.
Subsequently, Sharmila got a huge coverage in the media and political circles, as she was arrested by the police, her car got towed away by the Hyderabad police when she was still inside and her fast unto death was disturbed by the police at her Lotus Pond residence.
Such was the sensation she had created was that even Prime Minister Narendra Modi called her up and expressed sympathies with her. She received support from various quarters for her fight against the KCR government
Subsequently, Sharmila held a rally at Khammam where she announced that she would contest the next elections from Palair.
But surprisingly, after that nothing much was heard from her and there has hardly been any programme of action from her except an occasional statement.
On Tuesday, Sharmila announced that she would resume her padayatra again from the same place where she had taken the break.
She said would complete the tour as scheduled. She is left with another three or four hundred kilometres to walk to complete her padayatra.
She alleged that KCR, who had failed the state on every parameter and every front, was shockingly setting for national politics.
"It has been only the YSRTP that steadfastly and unconditionally took on KCR and his corrupt and tyrannical government," she claimed.
Sharmila said she would continue to battle his inefficient rule marked by failed promise, as we did with Kaleshwaram or Palamuru or unemployment or other issues. The countdown for the end of this corrupt regime has begun, she said.
On the occasion, she mocked BRS for their failed Khammam and show and their dramatics to expand across the country, while failing in the state.
"My entry to Paleru has rocked his morale and now he realized that the YSRTP is growing in its popularity and presence in the entire district along with contiguous parts of Nalgonda," she said.