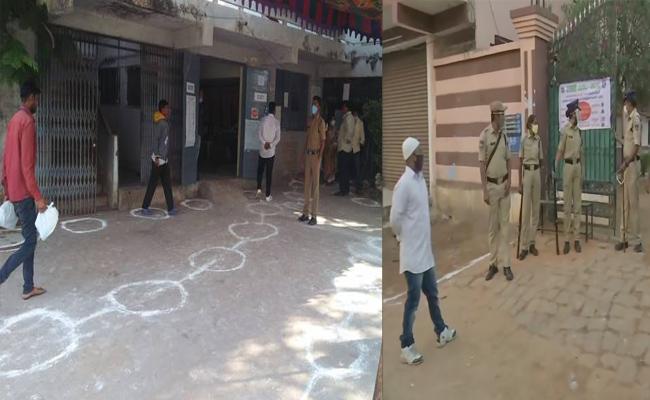 The shocking emptiness at various polling booths today made us conduct a survey at various places. Our focus is to know why the people didn't show interest in participating in the GHMC elections. We got some interesting and notable responses which we are presenting here.
"Nobody in our apartment premises, including me, doesn't know who our sitting corporator or the ward counselor is. We never thought about them. During the recent floods, our area got completely inundated and even then we thought only about our MLA but not about any elected representatives of GHMC. We really don't know what they do and what their responsibilities are. Why should we waste our time and energy by electing them. This is a sheer waste of public money to conduct GHMC elections, I feel. It would be better if those positions, if really needed, are filled by the government without holding elections. Some amendments can be brought in this matter", said Rama Rao, a resident in Uppal.
"Due to the work-from-home scenario and online schools many of the software engineers residing in our apartments moved to their native places a few months ago. The families that are living as tenants have vacated to save their money by shifting to their parents' place in other towns of the TS and AP. Almost 12 out of 36 flats are empty from the past 6 months. They might have not felt the need to travel all the way to Hyderabad to cast their vote", said Vamshidhar, the secretary of an apartment building in Kondapur.
"My vote is in Vanasthalipuram and I am at present living in Somajiguda. I didn't feel any need to go all the way to Vanasthalipuram to cast the vote for someone who is no way connected to me. I didn't have the time to change my address on the voter card as there was no sufficient time between the announcement of elections and the actual polling day", said a journalist.
"The scenario is the same every time. This is not something new. Even last time it was only 40% voting that was recorded in GHMC poll. This is the first time that the media has focussed on these elections in a big way due to the hungama created by BJP and its top leaders in the city. That wouldn't change the mindset of the people. Had it been General Elections, the situation wouldn't be like this", shared Gopinath from Somajiguda.
"The media channels are blaming the citizens who are not coming out to vote in GHMC elections. They are saying that we are irresponsible. Well, is anything going to change if we vote responsibly? I have never seen any elected GHMC representative in my area. Nor I ever felt the need to meet any such representative on any purpose. Why should I be responsible for something that is not in my experience. So, my wife and I didn't feel the need to vote in GHMC", said Sukumar, a software engineer from Gachibowli.
"I have the right to vote. At the same time I also have the freedom not to vote. Nobody is going to arrest and prosecute me if I don't. Then why should I waste my time on something that is not going to bother me? Had it been made a serious constitutional offence, I would have voted in the first hour of the day standing in the queue. You cannot expect responsibility in this nation without implementing law and order", shared Sridevi, a banker living in Vanasthalipuram.
So, to sum up, the GHMC elections proved to be a botheration only for the political parties but not for the majority of the people.
Greatandhra Bureau
Click Here for Latest Direct-to-OTT Releases (List Updates Daily)